If you're looking for chocolate dessert ideas, this Chocolate Berry Cake is a beauty.
There are so many things about this cake recipe that I love, I don't know where to start.
So here goes, firstly, this is a moist, rich fudgey dark chocolate cake that uses a mixture of ground almonds and plain flour for its base. The cake is also spiked with a good splash of Tia Maria for added depth.
The Tia Maria laced dark chocolate cake is pretty good on its own (understatement alert – it's amazingly good really) but there's a surprise with this recipe.
Frozen berries (yes – so very convenient) are sprinkled onto the cake batter just before you pop the cake into the oven. The berries gradually sink through the cake as it bakes and give gorgeous bursts of intense sweet flavour.
But we're not finished yet. If you thought this Tia Maria laced, berry and dark chocolate cake combination had reached its peak of deliciousness, go one step further and add a syrupy mixed berry compote. The berry sauce is  easy to make and again uses ever-convenient frozen berries.
There you have it. Super easy to make too. Serve with vanilla ice-cream or cream (or both) and you'll be loved forever.
This brilliant Mixed Berry and Chocolate Dessert Cake is brought to you by the clever people at Creative Gourmet.
If you're looking for other chocolate dessert ideas, have you seen this wonderful Intensely Chocolatey Cherry Cake? Cherry chocolate bliss.

Berry Chocolate Cake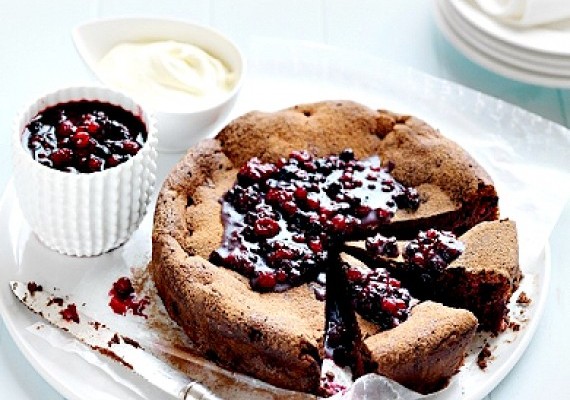 Ingredients
200g quality dark chocolate, chopped
150g unsalted butter, chopped
1 tablespoon Tia Maria or similar liqueur
⅔ cup caster sugar plus ¼ cup extra for compote
5 eggs, separated (at room temperature)
⅓ cup ground almonds
⅓ cup plain flour
500g box frozen Mixed Berries
Cocoa or icing sugar, for dusting
Cream or ice-cream, to serve

Happy Baking!