A sophisticated Grape Cake that's just perfect for afternoon tea.

While sultanas and raisins are familiar ingredients for cakes and baking in general, fresh grapes somehow don't seem to be as widely used.
That may all change with this lovely grape cake recipe.
The cake has tangy citrus undertones thanks to lemon and orange zest. Half butter and half olive oil give the grape cake a good moist texture. You want a young, fruity olive oil for this cake.
The undeniable stars in this recipe are the grapes. The restrained use of sugar means that the cake is not too sweet which allows the grapes to shine. And shine they do as you bite into little pockets of juicy sweet heaven.
Best eaten as soon as it is baked, serve with a light dusting of icing sugar for a perfect tea time cake. It works equally well as a not too sweet dessert cake. Or use champagne grapes in the cake and serve with a glass of champagne for something truly special.
This lovely Grape Cake is baked with love by Lulu's Sweet Secrets.

Grape Cake Recipe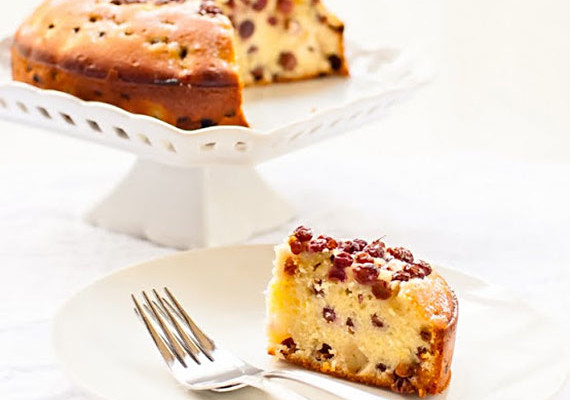 Ingredients
Butter and flour for preparing the cake pan
2 large eggs, at room temperature
⅔ cup (135 g) sugar
4 tablespoons (2 ounces; 60 g) unsalted butter, melted
¼ cup (6 cl) extra-virgin olive oil
⅓ cup (8 cl) whole milk
½ teaspoon pure vanilla extract
1½ cups (200 g) unbleached all-purpose flour
¾ teaspoon baking powder
A pinch of sea salt
Grated zest (yellow peel) of 1 lemon
Grated zest (orange peel) of 1 orange
10 ounces (300 g) small, fresh purple grapes
Confectioners' sugar, for garnish
Instructions
For the full recipe visit: Grape Cake.