If you're always searching for the best strawberry cake recipe, you've just struck gold. I've pulled together a list of ten of the best strawberry cake recipes around to help you out.
Is there anything more perfect than a fragrant, ruby red, sweet and juicy strawberry? Conversely, is there anything more disappointing than biting into the most perfect looking strawberry only to find it bland and tasteless?
I've always loved strawberries so strawberry cakes are naturally a favorite of mine. I have quite a few recipes but I've narrowed it down to ten of my favorite strawberry cake recipes for you to try.
These recipes celebrate strawberries in all their glory. Some have strawberries in the cake, some use strawberries in the frosting or as decoration. Other recipes use classic flavor combinations like strawberry and cream or strawberry and chocolate with great results.
One thing's for sure, all these strawberry cake recipes are simply divine. Which is the best strawberry cake recipe? I'll leave that for you to decide.

Enjoy!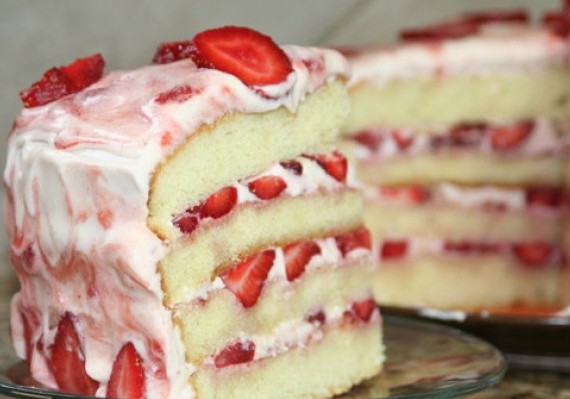 A Vanilla Cake with Strawberry Cream Frosting recipe to delight. With layers of vanilla cake, strawberry cream cheese frosting and six cups of fresh strawberries, this gorgeous cake tastes as good as it looks.
***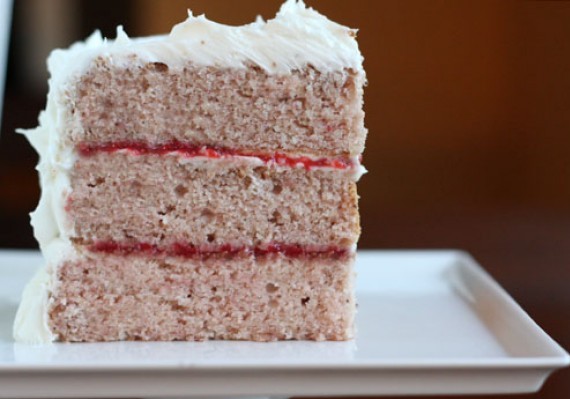 This Fresh Strawberry Cake recipe was a revelation for me. Think about it – have you ever had a strawberry cake, that's flavored just with strawberries? There is nothing artificial about this strawberry cake. The pink color is from strawberries. Just strawberries. No food coloring, jelly crystals or other additives. All natural. Just strawberries.
***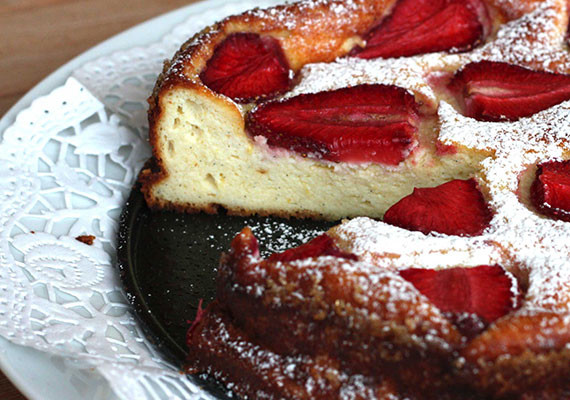 This Strawberry Ricotta Cake recipe has stolen my heart. A soft, delicate cake made with ricotta cheese, honey, vanilla and lemon zest topped with sweet juicy fresh strawberries.
***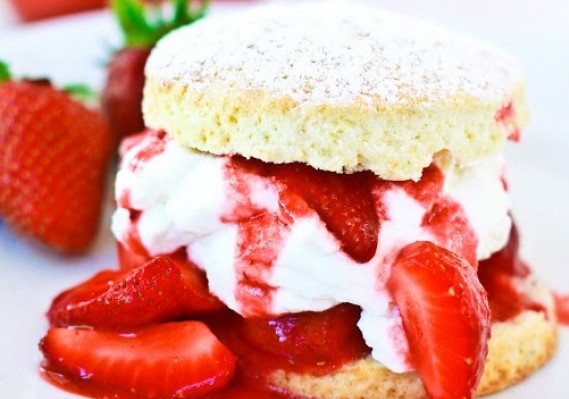 This Easy Strawberry Shortcake recipe is the perfect combination of cake, cream, strawberry syrup and beautiful fresh tasty strawberries. With a generous helping of old fashioned charm thrown in for good measure.
***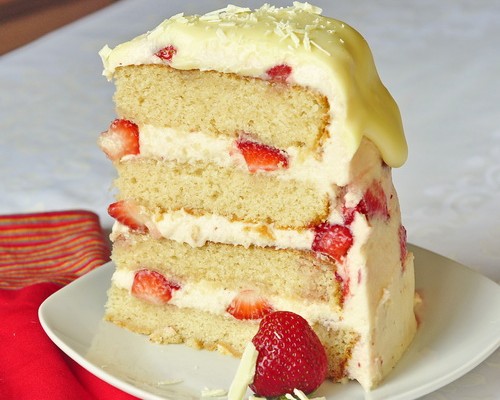 This Strawberry White Chocolate Buttercream Cake is for lovers of strawberries. And white chocolate. And buttercream. And cake. That covers just about everyone doesn't it?
***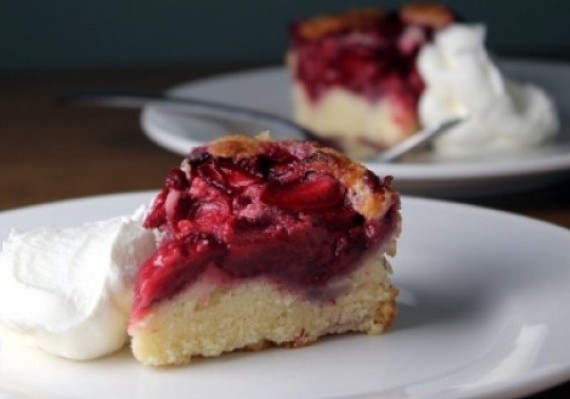 This Strawberry Vanilla Cake recipe won me over with that luscious thick topping for baked fresh strawberries. The baking process intensifies both the color and flavor of the strawberries. Baking also encourages the strawberries to take on a syrupy, jam like consistency which is just gorgeous.
***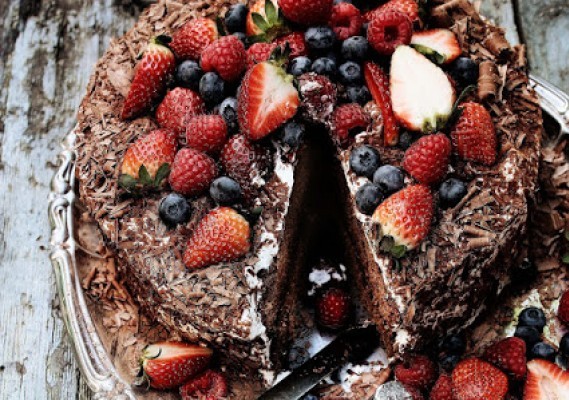 This unbelievably good Chocolate Strawberry Cake recipe gives you a rich, moist chocolate cake soaked in a syrup made from fresh strawberries. The syrup is intensely strawberry flavored (although you must use good strawberries to start with for maximum flavor). It gives the cake a decadent lushness that you usually only achieve using liqueurs. Sublime.
***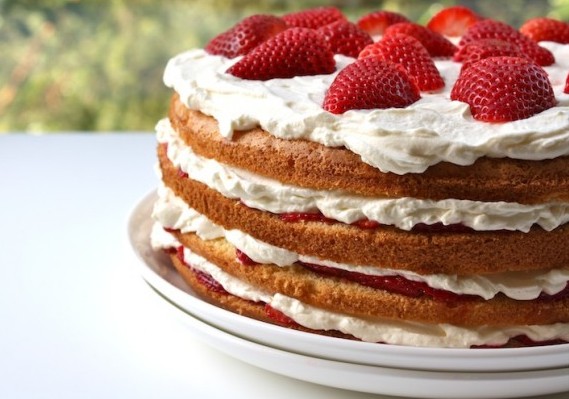 I couldn't make a list of strawberry cake recipes without including a Strawberry Cream Cake like this. Strawberries, cream and cake – you can't go wrong with this combination. A delicious, comforting and classic cake that's surprisingly easy to make. Such a crowd-pleaser too.
***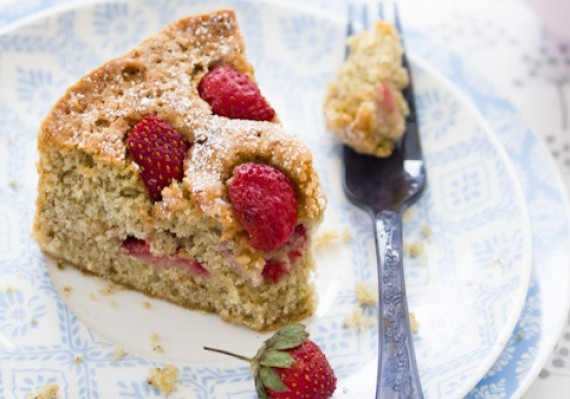 A lovely Strawberry and Pistachio Cake. Strawberries and pistachios are a lovely pairing and this cake is just perfect for an elegant afternoon tea.
***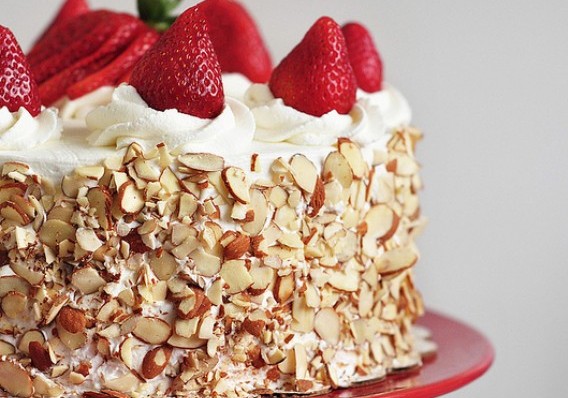 This Strawberry Shortcake Cake recipe is an utter delight. Light, fluffy layers of sponge cake brushed with a delicious rum-spiked syrup, lashings of thick cream, crunchy sliced almonds and as many strawberries as you can get your hands on, make this a truly great cake.
***
Do you have a favorite strawberry cake recipe you'd like to share? Think I've missed the best strawberry cake recipe? I'd love to hear about it. Why don't you leave a comment or send me an email.
Other Cakes You Might Like