With some cakes it's love at first sight, and that's exactly what happened to me with this Strawberry Ricotta Cake recipe.

A soft, delicate cake made with ricotta cheese, honey, vanilla and lemon zest topped with sweet juicy fresh strawberries.
Be still my beating heart.
And if that wasn't convincing enough, this lovely cake is pretty good for you too. There's no added sugar as the honey and strawberries take care of the sweetness. There's also no extra butter or oil as the ricotta cheese makes up for this.
If you haven't baked with fresh strawberries before, you're in for a treat. The color, sweetness and flavor intensifies with baking. Make sure you use the best strawberries you can get your hands on.
The baker who won my heart with this Strawberry Ricotta Cake recipe is the lovely Ana at Italian Chips.

Strawberry Ricotta Cake Recipe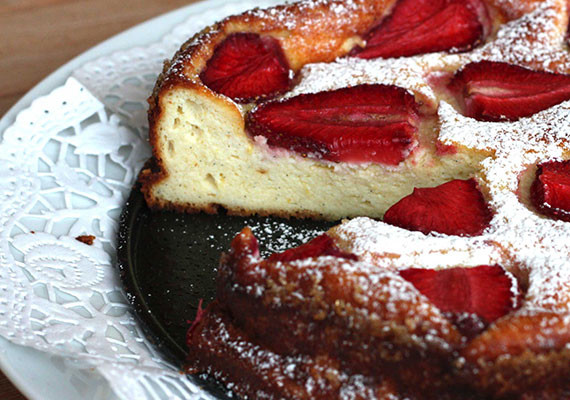 Ingredients
350 gr of ricotta cheese
70 gr of honey
50 gr of flour
4 eggs
grated zest of 1 organic lemon
vanilla beans from 1 piece
5 to 7 strawberries (depending on their size)
butter to grease the pan
sugar to sprinkle on the pan