A handy list of some of the best Coffee Cake recipes around.

If there's one thing better than sitting down to a nice cup of coffee, that has to be sitting down to a nice cup of coffee and a slice of coffee cake.
All of these cakes are coffee cakes in the sense that they go well with a  cup of coffee. There's no actual coffee flavor in these cakes. In the same way that tea cake doesn't usually have tea in the cake, but it accompanies a cup of tea.
A coffee cake is simply a style of cake usually characterized by a crumbly topping. Cream cheese also makes a regular appearance in coffee cake recipes and there is usually either a fruit or berry focus.
The term coffee cake particularly popular in the USA. Crumble cake, crumb cake and streusel cake are all terms used to describe the same style of cake but whatever you call them, coffee cakes are delicious.
You're sure to find something to go with your cuppa from these great coffee cake recipes. Better go put that coffee on…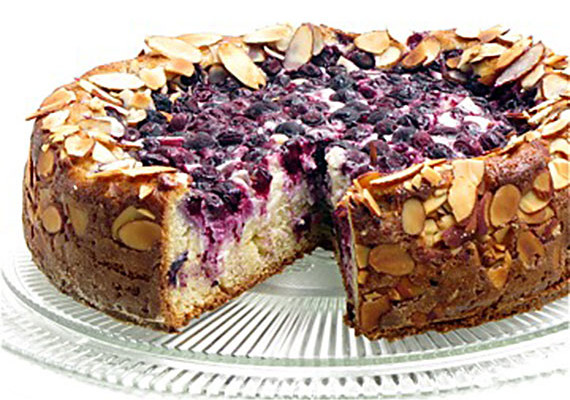 A Blueberry Cream Cheese Coffee Cake with a fluffy, moist buttermilk (or yoghurt) cake, lemon zest spiked cream cheese, two whole cups of blueberries and a smattering of crunchy toasted flaked almonds. This is a flavor-filled berry coffee cake that's also splendid to look at.
***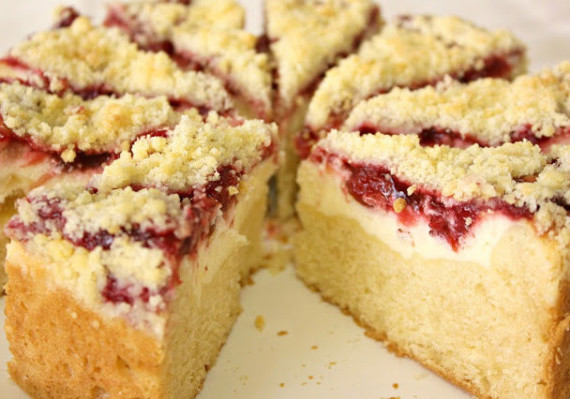 This Strawberry Cream Cheese Coffee Cake has four layers of deliciousness. First there is a lovely buttery cake base, followed by a thick layer of silky cream cheese then the sweet jammy topping made with fresh strawberries. Top these layers of cake, cream cheese and strawberry with a crumb topping and this is a coffee cake you'll remember.
***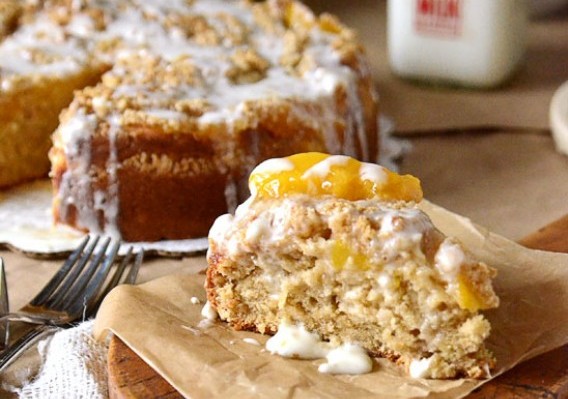 This Peaches and Cream Coffee Cake is a sweet and comforting home-made delight. Perfect for afternoon tea. Or morning tea. Or breakfast.
***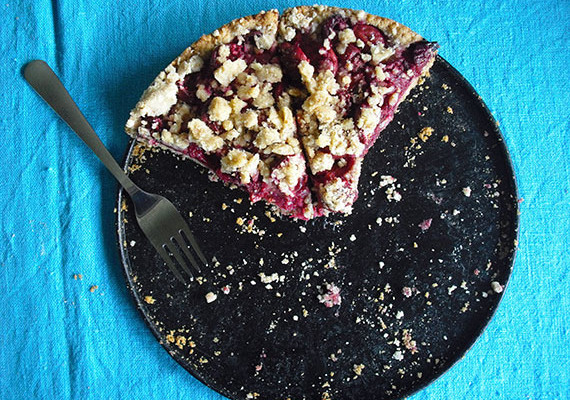 This Cherry Coffee Cake could become one of your stand-by recipes. A cross between a cherry pie, a cherry cobbler, a cherry tart and a cherry cake, this coffee cake recipe is pretty much guaranteed to please everyone who's partial to cherries.
***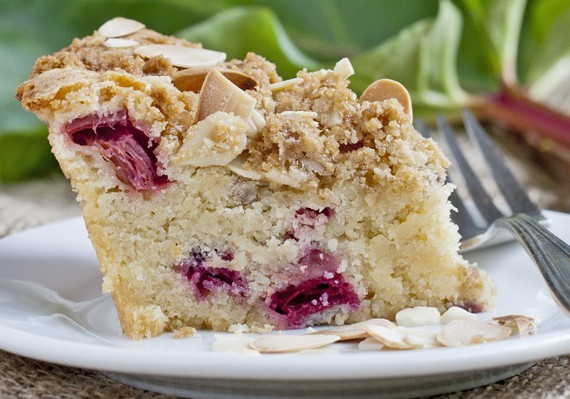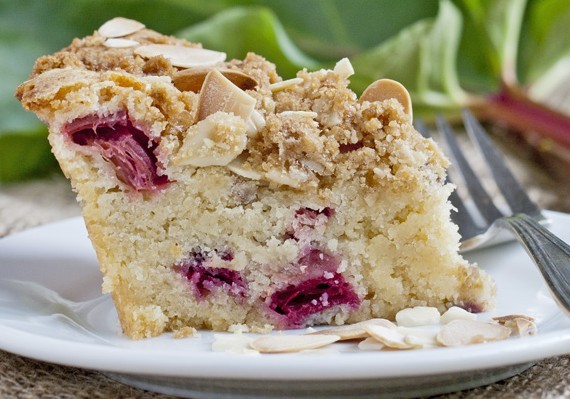 This Rhubarb Almond Coffee Cake is a delight. A gorgeous moist almond cake is studded with tangy jewels of fresh rhubarb. And as if that wasn't enough, add a delicious almond crumb topping and this cake makes my list of favorite recipes time-and-time again.
***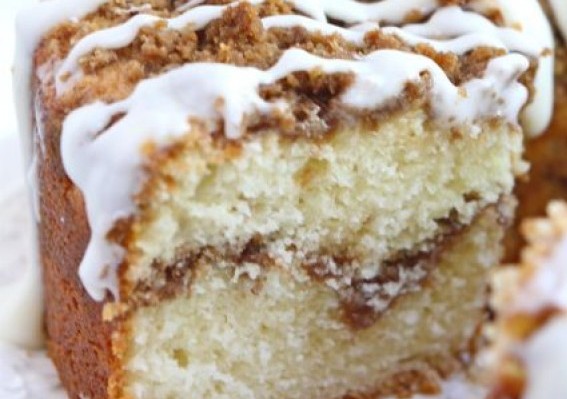 Great recipe for lovely Yoghurt Cinnamon Coffee Cake. Looks and tastes delicious with its ripples of cinnamon crumble and cream cheese glaze. Yes please!
***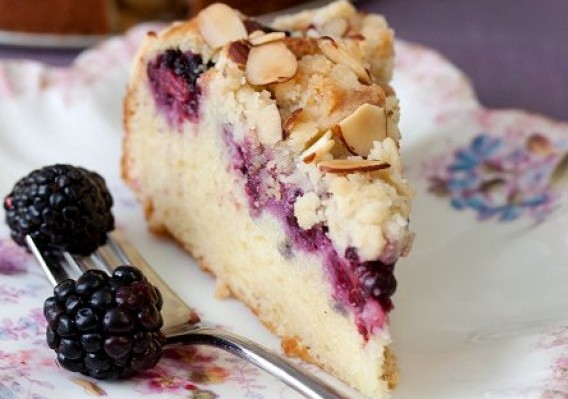 In this Fresh Blackberry Cake with Sour Cream and Crumble recipe the berries nestle in a lovely light vanilla, sour cream cake with a crumble topping made with sliced almond and lime zest.
***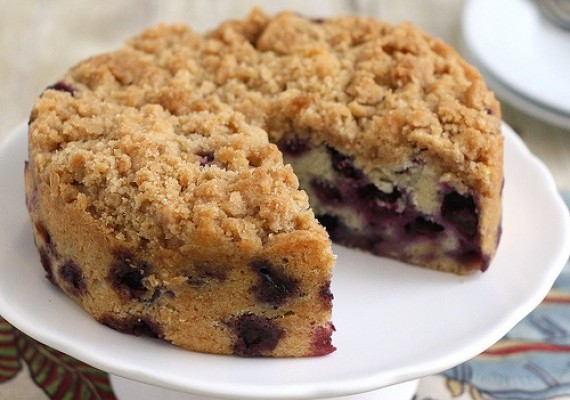 I think the genius of this Blueberry Buckle Cake recipe is that it is absolutely jam-packed with berries. Possibly more berries than cake. And then you have a seriously good amount of crunchy crumble topping. There's no such thing as too much crumble if you ask me.
***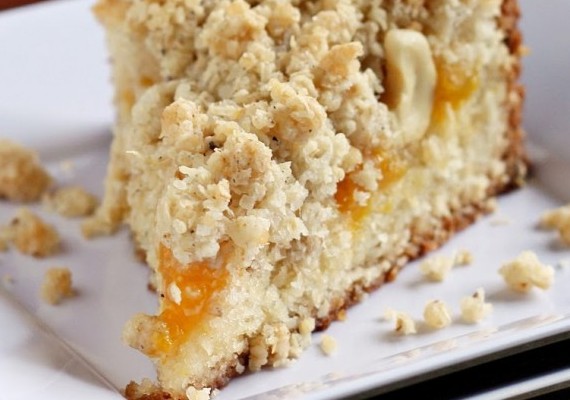 Add a tropical spin to your coffee cake repertoire with this Mango Coffee Cake recipe. Made with juicy fresh mangoes, the crumble topping is made particularly interesting by fresh cardamom.
***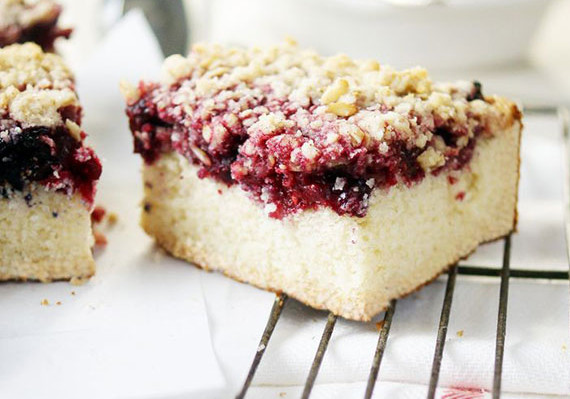 Everyone needs a super easy coffee cake recipe and this Berry Streusel Cake is a great one to have on hand. Divine served warm with ice-cream or cream as dessert, this Easy Berry Streusel Cake is equally delicious served cold with a cuppa.
***
Have I missed any classic coffee cakes? Do you have a favorite coffee cake recipe you'd like to share? I'd love to hear about it. Why don't you leave a comment or send me an email.
Other Cakes You Might Like