There are three elements in this lovely Yogurt Cinnamon Cake.

The cake itself is deliciously moist thanks to the addition of creamy Greek yogurt. The ripple of cinnamon streusel (which is just crumble by another name) through the middle and on the top is great for taste, texture and colour.

Add the lovely Cream Cheese Glaze and it's an absolute winner of a cake.
Perfect cake for a decadent afternoon tea. Or morning tea. Or breakfast. Anytime really.
The cake mastermind behind this lovely Yogurt Cinnamon Cake is Two Peas and their Pod.
Fond of streusel in your cakes? This gorgeous Blueberry Buckle Cake has a thick layer of delicious crumble on top. It's one of my favourite streusel cake recipes.
Happy baking!

Yogurt Cinnamon Cake Recipe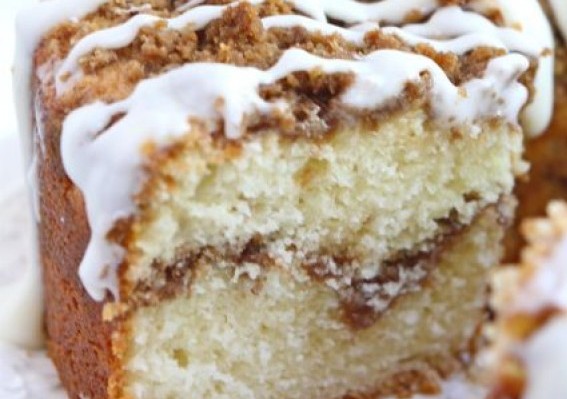 Ingredients
For the Cake:
12 tablespoons unsalted butter, at room temperature
1½ cups granulated sugar
3 large eggs
1½ teaspoons pure vanilla extract
1¼ cups plain Greek yogurt
2½ cups cake flour
2 teaspoons baking powder
½ teaspoon baking soda
½ teaspoon salt
For the Streusel:
⅓ cup light brown sugar, packed
⅔ cup all-purpose flour
1½ teaspoons ground cinnamon
¼ teaspoon salt
4 tablespoons cold unsalted butter, cut into pieces
For the Cream Cheese Glaze:
3 ounces softened cream cheese
2 tablespoons butter, at room temperature
⅔ cup powdered sugar
¼ teaspoon vanilla
3 tablespoons milk, or enough to make it a glazing consistency