An easy Butterscotch Cake recipe that will delight lovers of butterscotch, toffee and caramel everywhere.

The butterscotch flavour of the cake comes from the combination of butter, brown sugar and golden syrup. Like any good old-fashioned toffee, the cake's butterscotch flavour is smooth and rounded.
But the deliciousness doesn't end there for this Butterscotch Cake recipe.
Smother the cake in a caramel cream sauce and you'll be swooning. The sauce is easy to make as it uses a store-bought dessert caramel added to thick cream. This is a great caramel sauce to use on other sweet treats too – or maybe just spoon it over ice-cream (or, you know, eat it straight from the bowl).
I had always thought that butterscotch was Scottish (you know, butter-scotch). Turns out the most likely origin of the word is something related to the cutting of the butterscotch into pieces before it was allowed to harden (called "scotching" or some such).
The very talented Cook Republic shares this fabulous Butterscotch Cake.

Butterscotch Cake Recipe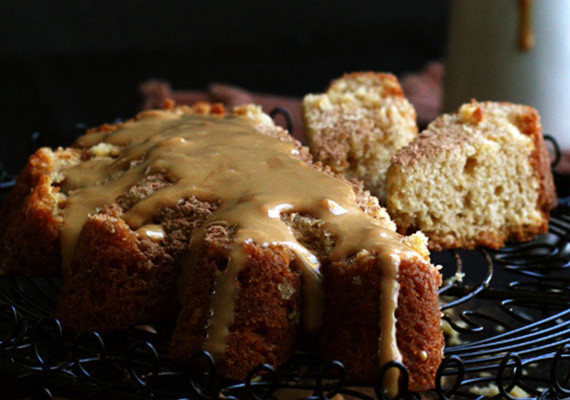 Ingredients
For the Butterscotch Cake:
250g butter, softened
1 tablespoon vanilla extract
185g (1 cup) brown sugar
150g (1 cup) self-raising flour
75g (1/2 cup) plain flour
2 eggs
1 tablespoon golden syrup
125ml (1/2 cup) milk
pinch of salt
For the Caramel Sauce:
2 tablespoons Nestle's Top & Fill Caramel
2 tablespoons thickened cream