This is a spectacular passion fruit cheesecake recipe where you can thank the lashings of passion fruit sauce for the exotic, tropical taste.

Incorporating passion fruit pulp into the cheesecake filling gives it a lovely soft pale yellow colour.
Pure passion fruit heaven.
Passion fruit imparts such amazing flavour to cakes. It must be the most flamboyant of all fruits with an intoxicating fragrance, bright summery colour and incredibly intense flavour. And have you seen the blossom of a passion fruit flower? Outrageous.
The cake maestro behind this magnificent Passion Fruit Cheesecake recipe is Beyond Sweet and Savory.

Passion Fruit Cheesecake Recipe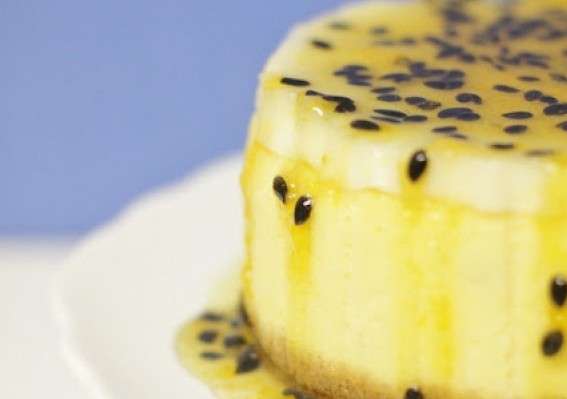 Ingredients
For the Biscuit Crust:
¾ cup Graham crackers crumb
¼ cup sugar
3 tbsp butter, melted
For the Filling:
8 oz cream cheese
8 oz mascarpone cheese
1 ½ cup powdered sugar
2 tsps vanilla extract
3 eggs
¾ cup passion fruit pulp
¼ cup sour cream
For the Topping:
1 cup sour cream
1 cup sugar
1 tsp vanilla extract
For the Passion Fruit Syrup:
⅓ cup water
⅓ cup sugar
⅓ passion fruit pulp

Are you looking for more delicious fruity cheesecake recipes like this one? How about this gorgeous Raspberry Cheesecake recipe? Or maybe I can tempt you to this Decadent Baked Chocolate Cheesecake?

Happy baking!