I think that this is the best German Chocolate Cake recipe around. An audacious claim I know.
This is a big, bold and beautiful chocolate cake.
Not sure which is more delicious – the cake or the contrasting milky coconut-pecan filling between the layers. Layers and layers of deliciousness.
This German Chocolate Cake is yet cake from the extraordinary talents of Hungry Rabbit.

German Chocolate Cake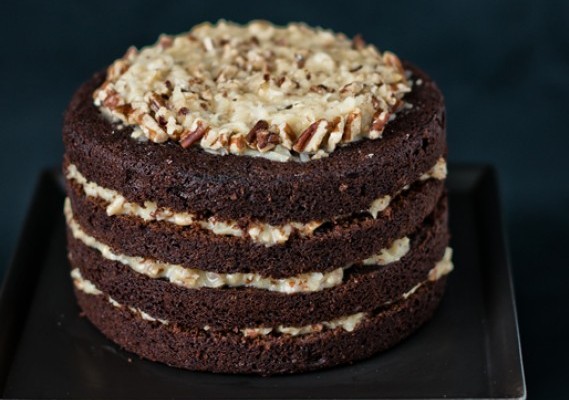 Ingredients
For the Filling:
2 egg yolks
6 ounces evaporated milk (1/2 can)
½ cup granulated sugar (3-1/2 ounces)
2 tablespoons light brown sugar, packed
3 tablespoons unsalted butter cut into small pieces
⅛teaspoon fine sea salt
1 teaspoon pure vanilla extract
1 cups sweetened shredded coconut, (about 3-1/2 ounces)
¾ cup finely chopped pecans (3 ounces), toasted
For the Cake
2 ounces semisweet or bittersweet chocolate, chopped fine
2 tablespoons Dutch-processed cocoa, sifted
¼ teaspoon instant espresso powder
¼ cup boiling water
1 cups unbleached all-purpose flour (5 ounces), plus additional for dusting cake pans
½ teaspoon baking soda
6 tablespoons unsalted butter, softened
½ cup granulated sugar (3-1/2 ounces)
⅓ cup packed light brown sugar (about 2-1/2 ounces)
¼ teaspoon fine sea salt
2 large eggs, room temperature
½ teaspoon vanilla extract
6 tablespoons sour cream, room temperature

Are you looking for more utterly amazing chocolate cake recipes like this one? The Answer Is Cake's Chocolate Cake Recipe Collection will make you swoon. Take a look and prepared to be inspired (and to be craving chocolate cake).

Happy baking!