A fabulous yellow cake recipe that was first published over 100 years ago.
A homemade cake that's been around that long must be a winner. And it is.
It's super easy, uses one bowl and is unfailingly reliable. Why would you even consider using a box cake mix with all their additives when you can make something like this so easily (but don't get me started on box cake mixes).
The cake itself is soft, moist and delicious. It's basic – but that's sort of the idea with this one.
According to Reeni at Cinnamon Spice & Everything Nice, the recipe comes out of a McCall's book that was published in 1910.
When you make this, definitely tell people how old the recipe is. There's a nostalgic charm to the idea that it's been around so long that resonates well.
A classic recipe worth holding onto.
The lovely Cinnamon Spice And Everything Nice brings you this charmingly old-fashioned recipe.

One-Bowl Yellow Cake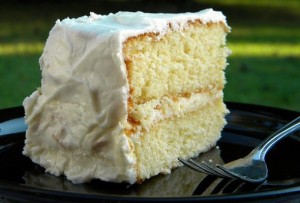 Ingredients
For the cake
2 cups all-purpose flour, sifted
1 and ¼ cup sugar
1 tablespoon baking powder
1 teaspoon salt
½ cup butter, softened
1 cup milk
1 teaspoon vanilla extract
2 eggs
Cream Cheese Frosting
8 ounces cream cheese, room temperature
8 tablespoons unsalted butter, cut into pieces, room temperature
1 teaspoon pure vanilla extract
1 cup confectioners' sugar, plus extra if needed
Whipped Cream Frosting
1 cup heavy whipping cream
½ teaspoon pure vanilla extract
1 tablespoon sugar