This white forest cake recipe is a wonderful twist on a true classic.
Here, layers of moist buttermilk cake are smothered in dark chocolate cream, poached cherries and cream.
The recipe calls for black currant liqueur, but I'm not a fan so I skipped that and it was still great.
Don't be too fussy with your presentation here. It's supposed to look a little messy and chaotic with layers and layers of deliciousness.
This extravagant White Forest Cake is baked with love by Chocolate & Chakra.
If you're looking for more cherry cake recipes, take a peak at this Cherry Cake Recipe Collection.

White Forest Cake Recipe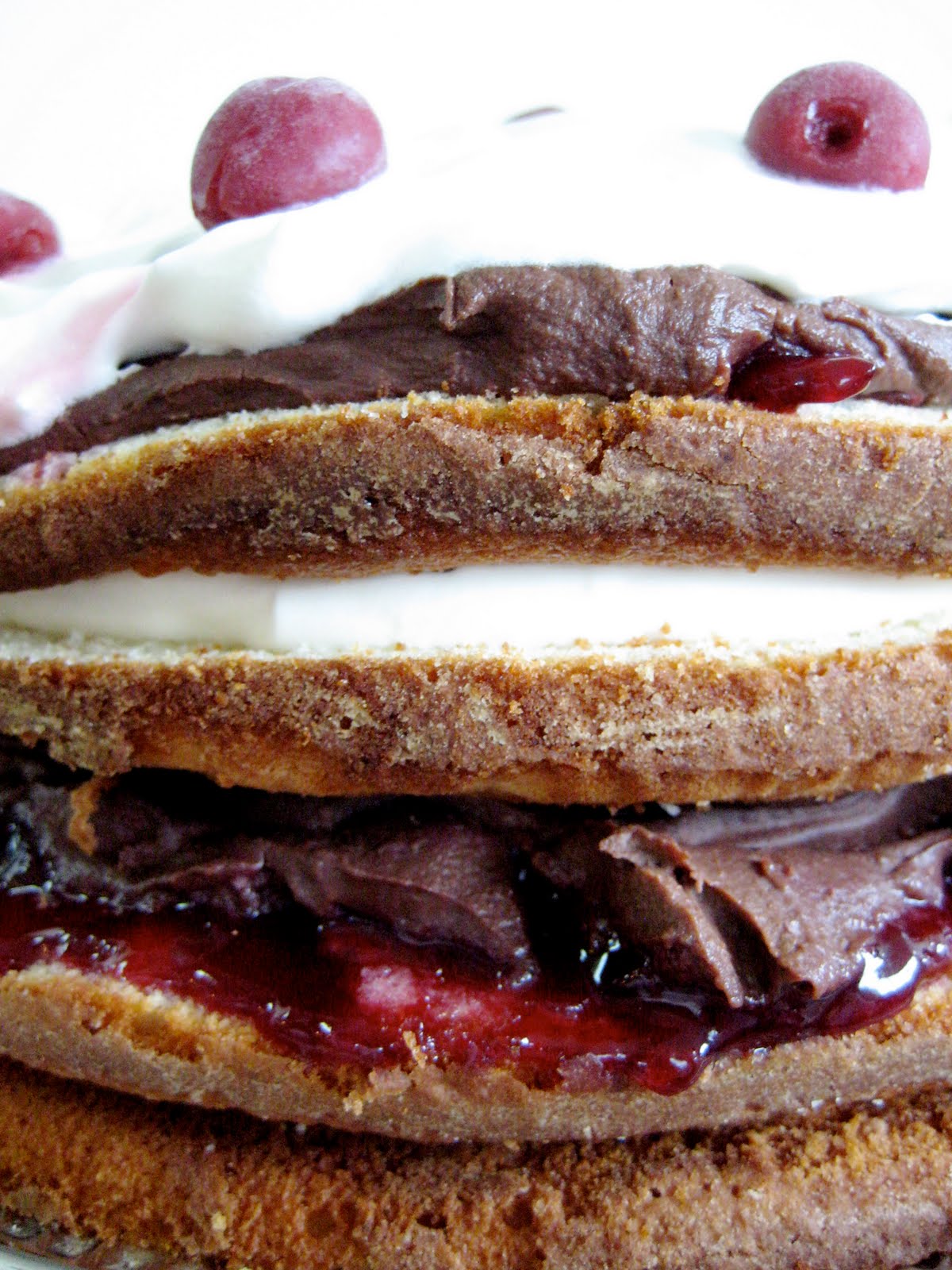 Ingredients
Buttermilk Cake Layers:
2 cups cake flour
2 tsp baking powder
⅛ tsp baking soda
¼ tsp salt
1¼ (10 Tbsp) unsalted butter, at room temp
1 cup sugar
3 large eggs
1 large egg yolk
1 tsp vanilla extract
½ cup milk
¼ cup plain yogurt (preferably 2% or higher)
Dark Chocolate Cream:
2 cups whole milk
4 large egg yolks
6 Tbsp sugar
3 Tbsp cornstarch, sifted
¼ tsp salt
7 oz. bittersweet chocolate, melted
2½ Tbsp unsalted butter, cut into 5 pieces, at room temp
Poached Sour Cherries:
2 cups water
½ cup sugar
1½ cups sour cherries (fresh or frozen)
1 piece lemon zest about 1" long
½ tbsp black currant liqueur
½ tsp vanilla
Whipped Cream Frosting
1½ cups whipping cream
2 tbsp sugar
½ tbsp black currant liqueur
½ cup cherry jam

Happy baking!