A lovely Pine Nut Cake recipe filled with the flavours of Tuscany.
The ancient Romans believed that pine nuts were an aphrodisiac.
I'm not sure about that, but I do adore pine nuts and would put them in pretty much everything if only they weren't so darn expensive.
In this pine nut cake recipe, the flavour of the nuts really shines against a light and fluffy lemon cake. The airy texture of the cake is thanks to the technique of folding meringued egg whites into the cake batter.
Word of warning, watch those pine nuts closely when toasting them. They burn very very quickly and we don't want that now, do we? Toasted pine nuts are great – burnt pine nut are not so great at all.
This gorgeous Pine Nut Cake is shared by The Italian Dish.

Pine Nut Cake Recipe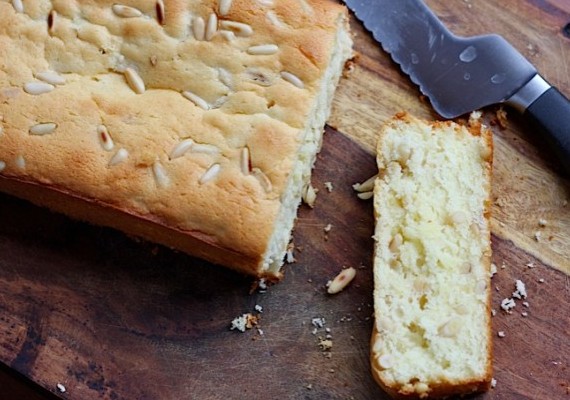 Ingredients
For the Pine Nut Cake:
2 cups pine nuts
1¼ cups sugar
1 pound (4 sticks) butter, at room temperature
zest and juice of 2 lemons
4 cups flour
2 tablespoons baking powder
4 whole eggs
¾ cup yogurt
For the meringue:
4 large egg whites
½ cup sugar

Happy baking!