Here's a sky-high layer carrot cake recipe that's a tropical Hawaiian twist on more traditional carrot cake.
There are layers and layers of deliciousness, but the carrot cake itself is relatively straightforward.
You'll notice an absence of nuts in the cake recipe. Fear not – if you prefer your carrot cake recipes to include a little nutty flavour and texture, just add some nuts of your choice (walnuts, pecans or hazelnuts are great).
Then there's the four layers. While it looks amazing, it might also be intimidating.
If that's the case, you can always make it a simple double layer cake. Easy. You may have some left-over icing, but it's so good you could eat it just on it's own (is that really bad?).
This Layer Carrot Cake with Coconut Icing is yet another baking masterpiece from Sweetapolita.

Layer Carrot Cake Recipe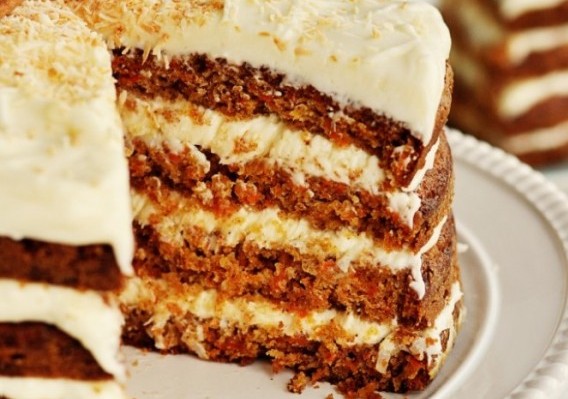 Ingredients
For the Hawaiian Carrot Cake:
1 cup (250 mL) chopped canned pineapple
4 cups (1 L) grated carrot
2½ cups (625 ml) all-purpose flour
1 tbsp (15 mL) baking powder
2 tsp (10 mL) baking soda
1 tsp (5 mL) salt
2 tsp (10 mL) cinnamon
1 tsp (5 mL) nutmeg
1 cup (250 mL) butter, at room temperature
1¼ cups ( 300 mL) golden brown sugar
4 eggs
2 tsp (10 mL) vanilla
½ cup (125 mL) milk
For the Coconut Icing:
2 pkgs (250 g each) regular cream cheese, at room temperature
1 cup (250 mL) butter, at room temperature
¼ cup (50 mL) sour cream or natural yogurt
1 tsp (5 mL) vanilla
2½ cups (625 mL) sifted icing sugar
1 cup (250 mL) sweetened flaked coconut

Happy baking!