An easy Eggless Plum Cake recipe that everyone will enjoy.

In this recipe, a lovely almond cake is topped with sliced fresh plums. But what makes this recipe extra special is that the cake is sweetened with maple syrup which caramelizes as it bakes.
Simple, sweet and pretty as a picture, this is a great tea time cake, or perhaps a special breakfast treat.
Without eggs or dairy, this Eggless Plum Cake recipe is suitable for vegans too – I guess you could also call it a Vegan Plum Cake if you prefer.
I first found this recipe on the blog Ana Fernandez but it seems to have disappeared into cyberspace. I've reproduced it below so we don't lose it forever.
If you're looking for more eggless cake recipes, may I suggest this Eggless Banana Cake or the ever popular Egg-free Chocolate Sponge Cakes.

Eggless Plum Cake Recipe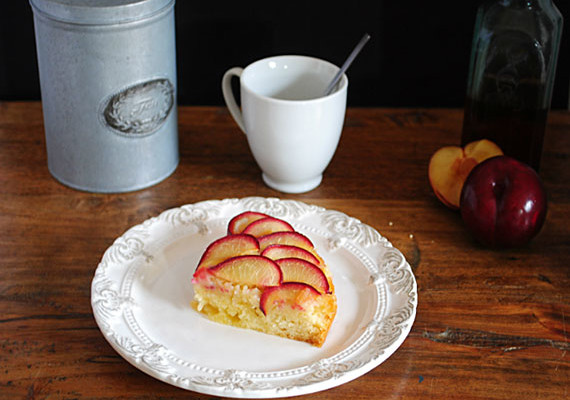 Ingredients
¾ Cup whole wheat flour
½ Cup sugar
1 teaspoon baking powder
¼ Cup oil
½ Cup almond milk
¼ Cup sliced almonds
¼ Cup maple syrup + more for decoration
1 Teaspoon vanilla extract
Pinch of salt
2 Plums sliced
Instructions
Preheat the oven to 350 degrees.
In a oven proof mould mix the whole wheat flour with the sugar, the baking powder and the salt.
Add the oil and the milk and mix well until the lumps have disappeared.
Add the sliced almonds and the vanilla and mix.
Cover the mixture with maple syrup.
Bake for 10 minutes.
Remove from oven and top with the plums
Add some more maple syrup and place in oven again for 40 minutes.