A Strawberry Yogurt Cake that's simply perfect.

The basic yogurt cake (made with low-fat yogurt), provides a perfect background for fresh strawberries and zesty lemon.
Cakes made with fresh strawberries are my idea of heaven, and this cake more than meets my high standards.
You often see recipes for Strawberry Yogurt Cake that add an icing or syrup. But that's just not necessary with this recipe. With so much flavor in this cake, all that's needed is a dusting of icing sugar to finish.
Easy, fresh and tasty, this is a lovely cake for morning or afternoon tea – or bake it the night before for a special breakfast treat. What a way to start your day.
This gorgeous Strawberry Yogurt Cake is from the queen of strawberry cakes, Ana at Italian Chips.
If you love strawberry cakes, you might like to pop over to our list of the best strawberry cake recipes. As I said, my idea of heaven…

Strawberry Yogurt Cake Recipe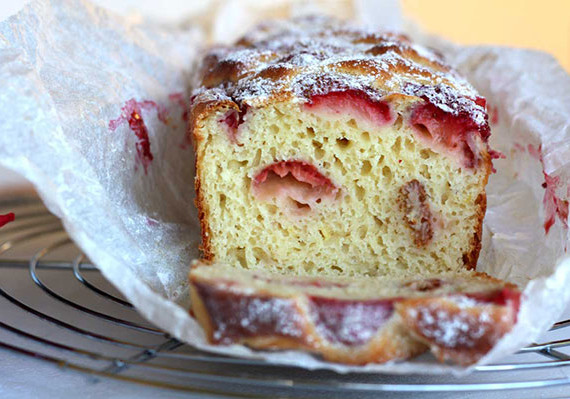 Ingredients
300 gr of flour
100 gr of sugar
250 gr of low fat yogurt
200 gr of strawberries
7 gr of baking powder
2 eggs
3 tbsp of lemon juice
zest of 1 lemon