An all-time favorite for people all over the world, myself included. Oddly enough, even people who don't really like coffee often like Tiramisu. Go figure.
And the joys of Tiramisu go beyond the fact that it's a taste sensation. It's actually very easy to make – and very forgiving too. There's nothing too precise or technical about layering cream, zabaglione, mascarpone, cocoa and coffee-soaked lady finger biscuits.
Tiramisu is best made at least a day ahead of when you want to serve it so that all those gorgeous flavours have time to mingle and intensify.
This traditional and indulgent Tiramisu recipe is from the very talented Life, In Recipes.
Tiramisu can look a little messy on the plate. While this has never ever bothered me (all I see is a plate of deliciousness), if you are looking for a more refined Tiramisu, this very clever Tiramisu Cake from The Pastry Affair uses additional lady biscuits around the sides to give the Tiramisu some shape and structure. All finished off with a pretty ribbon.

Tiramisu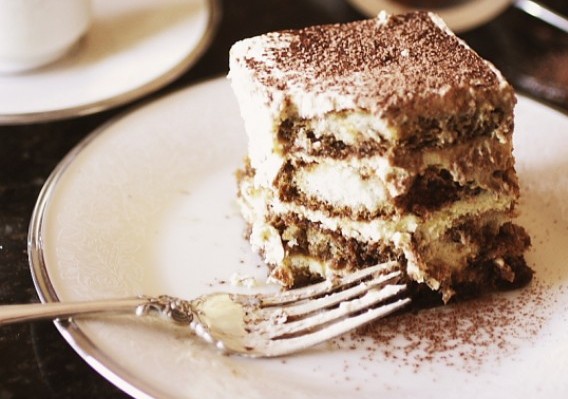 Ingredients
5 egg yolks
¼ cup plus 4 tablespoons honey granules (can use granulated sugar)
4 tablespoons Marsala wine
¾ cup heavy cream
1 lb. mascarpone cheese
2 x 7 oz. packages lady fingers
2 cups brewed espresso
1 tablespoon vanilla
Instructions
For the full recipe go here: Tiramisu.

Happy baking!