I've been really busy lately – too busy to bake cakes. Which is not like me at all.

Baking, and the subsequent eating, has always been a form of "therapy" for me. But I feel like the White Rabbit from Alice in Wonderland at the moment running around, kowtowing to superiors, with a general feeling of "Oh dear! Oh dear! I shall be too late!"

The last cake I baked was for my husband's work. I baked it at midnight, after a few glasses of wine at a work function. And I didn't even get a slice!

This too-busy-to-bake scenario is new to me.

While there are cakes you can bake quickly, it still takes time to make the batter, bake the cake and clean-up. That's time – and energy – that I just don't have right now.

And I know I'm not the only one.
So what do you do when you quite fancy a baked sweet treat, without the hassle?
Enter the crumble. But not just any crumble. The easiest, most delicious, lowest effort-to-taste ratio of any baked good I have ever encountered. The fresh Strawberry Crumble.
I stumbled across this recipe from Nigella Lawson that has changed my life.
"Why is this recipe so good?" I hear you ask, "It's not like crumble is news to anyone".
I agree. Crumble is a firm family favourite around the world. You can pretty much use any fruit – fresh or canned and as long as you have a minimum of butter, flour and sugar for the topping – you're good to go. Anyone can bake a crumble.
This particular Strawberry Crumble recipe has the lovely addition of almond meal and vanilla sprinkled over the berries. The almond meal gives a bulk to the strawberry filling and provides a lovely texture and subtle flavour. It's not just the usual layer of fruit you get in crumbles but something more akin to a flan filling, or dare-I-say, cake.
While I loved Nigella's recipe the very first time I tried it, I found it way too sweet. I half the sugar and am much happier with the results. Perhaps if you're using poor, tasteless strawberries the additional sugar might be necessary, but otherwise be careful how much sugar you use.
I also make the crumble in the food processor. I honestly don't think it's as good as making crumble by hand, but it's undoubtedly quicker. I do add a bit more butter to account for the food processor and then squeeze the crumble to form larger clumps before sprinkling it on-top of the strawberries.
Let's talk about tasteless strawberries for a moment. There's not much in life that's more disappointing than a perfect looking, ruby red strawberry that has no flavour or scent. Supermarket strawberries are the worst offenders. As Nigella says, baking magically transforms strawberries adding an amazing amount of flavour. If your strawberry is poor to start with, it will be much better after baking. If your strawberry is sweet and fragrant to start with, well, you'll be in seventh-heaven once that beautiful berry is baked.
A final word on being busy. Given I'm too busy to bake cakes, I'm certainly too busy to be taking professional quality photographs that make your mouth water. The photo I took just doesn't do the crumble justice (it was on my iPhone after all). But I give you my word – this Strawberry Crumble is divine.
Recipe adapted from Nigella Lawson here.

Strawberry Crumble Recipe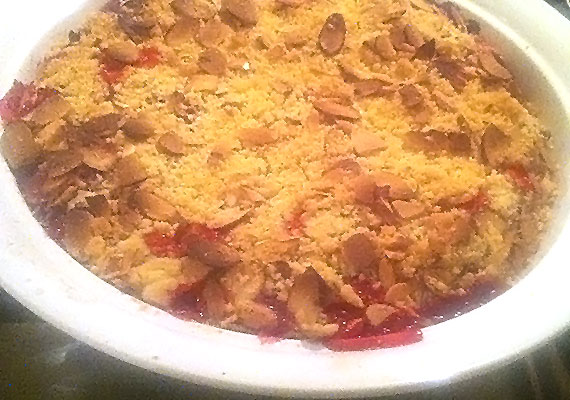 Ingredients
For the strawberry filling:
500 grams strawberries (hulled)
25 grams caster sugar
35 grams ground almonds
4 teaspoons vanilla extract
For the crumble topping:
110 grams plain flour
1 teaspoon baking powder
90 grams cold butter (diced)
100 grams flaked almonds
35 grams demerara sugar
Thick cream or ice-cream to serve
Instructions
Preheat the oven to 200C.
Step 1 - Place the hulled strawberries into the pie dish (use a dish that allows the strawberries to be crowded and overlapping – not too spread out). Sprinkle the strawberries with sugar, almonds and vanilla extract. Shake the dish to coat the berries with the sugar, almond meal and vanilla.
Step 2 - For the crumble topping: put the flour and baking powder in the food processor and pulse until just combined. Stir in the flaked almonds and sugar with a fork. Using your fingertips, pinch to crumble to create larger clumps.
Step 3 - Scatter the crumble over the strawberry mixture, covering the strawberries in an even layer. Press in at the edges of the dish to create a seal.
Step 4 - Bake for 20-25 minutes, or until your crumble topping is golden and the strawberry juice is bubbling up in places. Leave to stand for 10 minutes before serving with cream or ice-cream.