An Apricot Slice Cake that's super easy and super delicious.

Here, slices of fresh apricot crown a simple almond yogurt cake.
Fresh apricots, when baked, intensify in color, texture and flavor. It's a glorious (and delicious) transformation.
The almond meal gives the cake great texture and flavor. The trick here is the mix of almond meal and regular flour which lightens the cake and prevents it being too dense.
I also like the use of honey along with sugar to sweeten the cake. Honey adds a little more richness and a touch of floral sweetness – depending on the type of honey you use of course (I like strong, heady, fragrant honeys).
Honey ties all the flavors of this cake together beautifully. Honey and apricot are a great combination as is almond and honey. And when you bring honey, almond and apricot together, delicious things happen.
This Apricot Slice Cake is shared by the lovely Eva at 1 Big Bite.

Apricot Slice Cake Recipe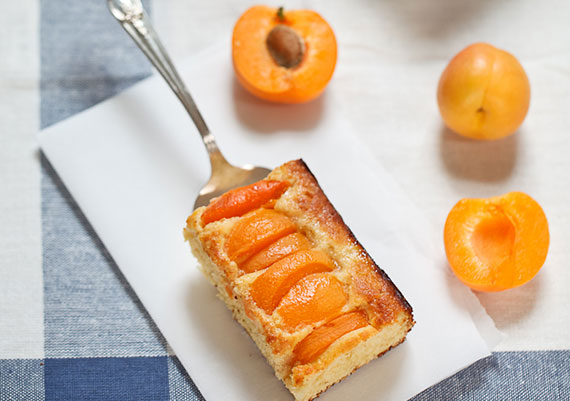 Ingredients
200 g / 7 oz. all-purpose flour
100 g / 3 ½ oz. almond meal or ground almonds
1 ½ tsp. baking powder
½ tsp. fine sea salt
110 g / 1 stick unsalted butter, softened
100 g / 3 ½ oz. granulated sugar
50 g / 1. 8 oz. honey
3 large eggs
125 g / 4.4 oz. plain yoghurt
1 tsp. vanilla extract
4-5 fresh apricots
1 Tbsp. turbinado sugar