A gorgeous Blueberry Bundt Cake recipe that's just bursting with bright juicy blueberries. Pop some fresh flowers in the centre like in this photo, and a dust of powered sugar and you're sure to impress.

This is also an easy bundt cake recipe if you're new to baking with this style of pan.
What is a bundt cake?
Well a bundt cake is baked in a specially shaped pan which results in a ring of cake with ridges. This has changed a little over the years and these days you can get other bundt pans, such as mini bundt cake pans and rose shaped pans. The funnel up the middle of the cake pan affects the baking time so be aware of this is you are baking a bundt cake recipe in another shaped pan, or if you are baking a normal cake recipe in a bundt pan.
The very talented Bake at 350 shares this lovely Blueberry Bundt Cake.

Blueberry Bundt Cake Recipe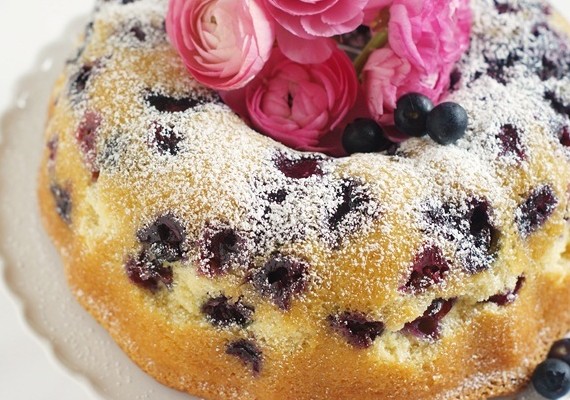 Ingredients
2 & ½ cups unbleached, all-purpose flour
1 TBSP cornstarch
½ teaspoon kosher salt
¼ teaspoon baking soda
⅔ cup milk, room temperature
⅔ cup heavy cream, room temperature
2 teaspoons vanilla extract
2 & ¾ cups vanilla superfine sugar
1 & ¾ sticks unsalted butter, room temperature
5 eggs, room temperature
1 & ⅓ cups fresh blueberries
powdered sugar

Happy baking!