For those days when regular chocolate cheesecake just doesn't cut it, check out this Dark Chocolate Cheesecake.
Rich, indulgent and decadent, this Dark Chocolate Cheesecake is not for the faint of heart.
With 10 ounces of dark chocolate and cocoa powder in the cheesecake filling, a chocolate biscuit base and a thick dark chocolate ganache topping (another 6 ounces of dark chocolate), this is a chocolate extravaganza.
All up, 16 ounces of dark chocolate and 32 ounces of cream cheese. For those of you in metric – that's almost half a kilo of dark chocolate and a whopping kilo of cream cheese. Fainted yet?
With all that dark chocolate and cream cheese, this is a rich, dense cheesecake best served in small slices – to begin with at least.
The Dark Chocolate Cheesecake queen for this recipe is Our Kitchen Sink.

Dark Chocolate Cheesecake Recipe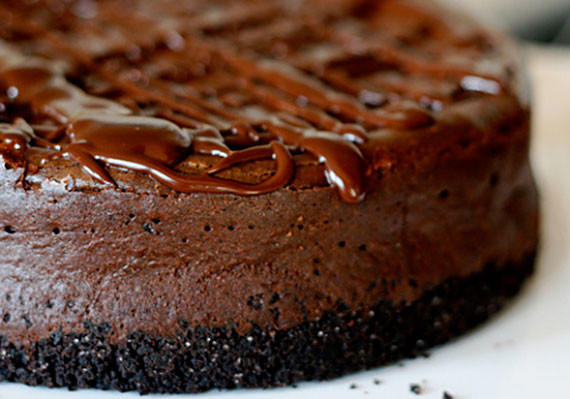 Ingredients
For the Biscuit Crust:
24 chocolate wafer cookies (from one 9-ounce package)
1 tablespoon sugar
¼ cup (1/2 stick) butter, melted
For the Dark Chocolate Cheesecake Filling:
10 ounces 70% Cocoa Bittersweet Chocolate, chopped
4 (8-ounce) packages cream cheese, room temperature
1¼ cups plus 2 tablespoons sugar
¼ cup unsweetened cocoa powder
4 large eggs
For the Dark Chocolate Ganache:
¾ cup whipping cream
6 ounces 70% Cocoa Bittersweet Chocolate, chopped
1 tablespoon sugar