A great Cherry Upside-Down Cake recipe for  when you need a cake that looks fantastic, tastes unbelievable and is super-easy to make. Well all your bases are covered with this recipe.
There are a few very special things going on with this cake.
The first and most obvious is the cherries. Here the fresh cherries are coated in brown sugar and balsamic vinegar which intensifies their flavour and sweetness. Baking also brings out the deep purple-red cherry colour that's so incredibly gorgeous on the top (or is that the bottom?) of this cake.
The recipe uses cornmeal which adds a fabulous texture to the cake as well as a lovely golden hue. There is also a very subtle hint of coconut from the coconut milk.
And because it's an upside-down cake recipe, it's so very easy to bake.
Put all that together and you have one sensational cake indeed.
The lovely Joanne at Eats Well With Others brings you this great Cherry Upside-Down Cake recipe.
Looking for more upside-down cake recipes? How about these lovely little apple upside-down cakes? Or if it's more cherry cakes you're looking for, this Cherry Cake Recipe Collection shares 10 of the best cherry cakes around.

Cherry Upside-Down Cake Recipe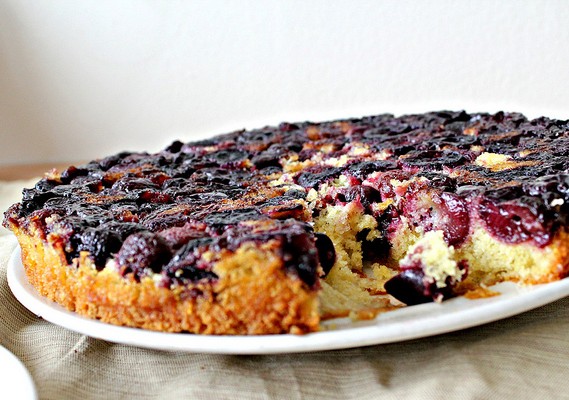 Ingredients
¾ cup unsalted butter, room temperature, divided
¼ cup packed dark brown sugar
2 tsp balsamic vinegar
3 cups whole pitted fresh cherries
1¼ cups AP flour
¼ cup yellow cornmeal
2 tsp baking powder
¼ tsp salt
1 cup sugar
2 large eggs, separated
¾ tsp vanilla bean paste OR vanilla extract
½ cup light coconut milk
¼ tsp cream of tartar