An Easy (frozen) Raspberry Muffin recipe that you can whip up in a flash.

I had two of these babies for my lunch today.
And it got me thinking about whether there is any real difference between cake and muffins (yes, I ponder the big questions in life).
I remember being told that muffins were just cake you could have for breakfast (or in my case, lunch). And I think that there is much truth in that observation.
Take for example this muffin I ordered at a local cafe (below). They were out of my usual raspberry muffin, but had a chocolate raspberry version available so I went with that. I thought it would be my usual raspberry muffin with bits of chocolate – but no, no, no, no, no.
I mean – just look at it – in what world is this muffin not cake? There was chocolate "cake/muffin" base, melted chunks of chocolate, a gooey, under-baked chocolate top and a fruity, orange raspberry glaze. I'm not saying it wasn't delicious mind you – but it was 10.30 in the morning. I would never have ordered chocolate cake at 10.30a.m.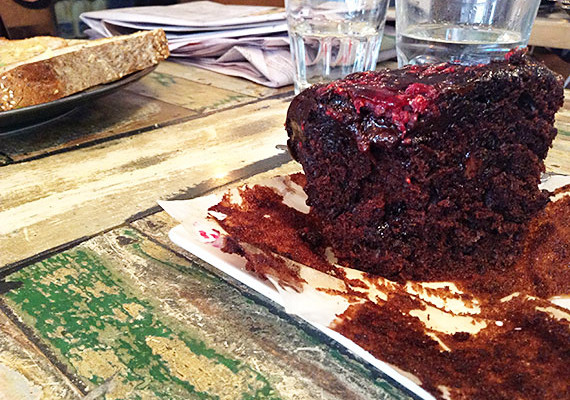 For a while I thought that the ultimate difference between cake and muffins came down to frosting.
You frost a cake, but never a muffin.
But these days, you see lots of muffins with a cream cheese topping. Surely that counts as frosting. And glazed muffins are everywhere too. Not quite frosting but in the same ballpark.
There is generally a little less sugar in a muffin – but again, you can get some super-sweet muffins (like my chocolate beauty above). While low sugar or no-sugar cakes are becoming more and more common.
Muffin batter is usually thicker than most cake batter, with a lower liquid to dry ingredients ratio. This alters the baked texture, with a muffin often being denser than a cake. But then again, I've had light, fluffy muffins and dense, heavy cakes.
Bake time is usually less for muffins as smaller muffins bake faster than a whole cake (the surface area to volume ratio if you're scientifically inclined). But cupcakes are small too.
Muffins are often heated up or toasted, but warm cake is pretty awesome too (hello warm chocolate cake and ice-cream).
Nothing categorically seems to differentiate the two.
But, one thing I do know – when I want a quick baked treat, I'm likely to whip up some muffins.
There's no messing around with mixers or food processors (although this chocolate cake only needs a bowl and a spoon).
While there are a couple of differences that seem to separate muffins and cakes, once you really think about it, the differences are minimal and there are no absolutes. And, just like the idea that muffins are somehow acceptable for breakfast while cake is not, the differences are cultural and/or social.
For example, I've never heard of anyone having wedding muffins instead of a wedding cake. But on the other hand, if you had a breakfast or brunch wedding reception, a muffin tower as a wedding cake wouldn't seem out of place at all.
So I come back to those words of wisdom about muffins being cake you're "allowed" to eat for breakfast.
But then again, I sometimes eat cake for breakfast (when at home), and as today proved, muffins for lunch.
Here is one of my favorite muffin recipes, Raspberry Crumble Muffins. They are a little more cakey than many muffins in that the texture is lighter and less dense, but it's a cracker of a recipe. Quick, easy and reliable.
While this version is for raspberry muffins (which I always make with frozen raspberries by the way), you can really add whatever you like, other fruits or berries, nuts, choc-chips. You can also make it with or without the crumble, but everything is better with crumble in my world.
Easy (Frozen) Raspberry Muffins Recipe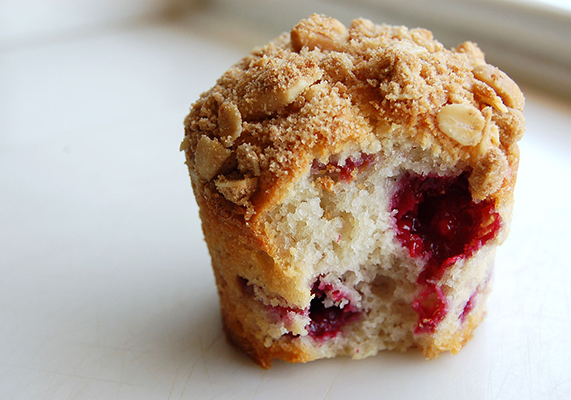 Ingredients
For the muffins:
¾ cup milk
¼ cup vegetable oil
1 egg
½ teaspoon vanilla essence
2 cups self-raising flour
½ cup caster sugar
¾ cup raspberries (fresh or frozen - I use frozen)
For the crumble topping:
½ cup plain flour (although self-raising is fine too)
¼ cup rolled oats
½ cup butter, cut into cubes
3 tablespoons brown sugar
Optional: I usually add 2 tablespoons (or so) of some sort of chopped nuts - almonds, walnuts or pecans are great. Gives a little more crunch and flavor.
Instructions
Step 1 - Preheat your oven to 200ºC. Prepare a 12 muffin cup pan (grease and/or paper cups).
Step 2 - Prepare the crumble first (this way you can get your muffins into the oven more quickly). Using your hands, rub together the flour, brown sugar and butter. It will look like crumbly soil. Once combined, add in the rolled oats (and nuts if you're including them) and mix through. Set aside.
Step 3 - In a large bowl, combine the egg, milk, vanilla and oil. Beat until well mixed.
Step 4 - In another separate bowl, sift the flour and sugar.
Step 5 - Add the dry ingredients to the wet ingredients. Fold gently with a wooden or rubber spoon until just combined. Mix until a batter just forms. Don't over mix or you'll have tough muffins. At this stage your batter may still have lumps – don't worry about it.
Step 6 - Gently fold in the berries using a wooden or rubber spoon.
Step 7 - Fill each of the muffin cups with the batter to approx ¾ capacity. Be careful not to overfill.
Step 8 - Top each muffin with a sprinkle of crumble.
Step 9 - Bake for 20-25 mins. Perform a skewer test.
Step 10 - Allow to cool for 10 minutes and remove from pan.
Enjoy!