Full of the goodness of bananas, pecans, pineapple and cream cheese, this easy Hummingbird Cake recipe is a winner.
If you're not familiar with hummingbird cake, think of it as a turbo charged banana cake.
Like in this recipe, Hummingbird cakes usually include canned crushed pineapple and some type of nut (pecans here). Some recipes add  more things like raisins or sultanas and sometimes carrot. And you often see hummingbird cakes with cream cheese frosting.
Like banana cakes, I always find that hummingbird cakes are a real crowd-pleaser.
This easy hummingbird cake is made all in the one bowl. Don't worry if your mixture looks split after you've combined all of your ingredients. Pop it in the oven and it will come out perfectly.

Two Tiny Kitchens brings you this delightful and delicious easy Hummingbird Cake.


Easy Hummingbird Cake Recipe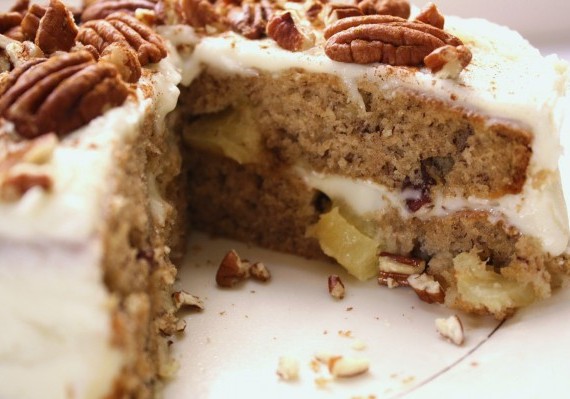 Ingredients
1½ cups sugar
3 eggs
1¼ cups sunflower oil
1¼ cups mashed banana
1 teaspoon ground cinnamon, plus extra to decorate
2⅓ cups all-purpose flour
1 teaspoon baking soda
½ teaspoon salt
¼ teaspoon vanilla
½ cup chopped canned pineapple
⅔ cup shelled pecans (or walnuts), chopped, plus extra, chopped and whole, to decorate
Cream cheese frosting

Happy Baking!