A Persimmon Cake recipe that may change your mind about baking with persimmons. I'm certainly a convert.

I'd never been a great fan of persimmon fruit. My grandmother had an enormous persimmon tree and when we visited, we were feed seemingly endless amounts of persimmons. My grandmother also didn't have any teeth, and I have vivid memories of her eating the mushy soft persimmons with a gusto she had once reserved for T-bone steaks.

Feeling I had eaten a life-time's worth of persimmons as a child, it wasn't a fruit I reach for at the markets. It's also hard to pay for something you once had for free by the bucket load.

But then I saw a few recipes for persimmons and persimmon cake popping up in fashionable magazines, websites and cookbooks.
Looks like everything old had become new again – again. I found myself buying persimmons after all and I haven't looked back.
This simple persimmon cake has recently become my favourite recipe for baking with persimmons. It's very, very easy to make and has a lovely flavour. The persimmon gives a subtle fruity sweetness (and moistness) to the cake which is gently spiced with vanilla, nutmeg and cinnamon. Another great addition is a splash of brandy. Brandy goes so very well with persimmon – something I'm sure my Grandmother would have known (and indulged in).
Make sure your persimmons are completely ripe before you puree them. They should feel like the insides have turned to liquid and even touching them might cause them to bruise.
This Persimmon Cake recipe is shared by the talented Apricosa.

Persimmon Cake Recipe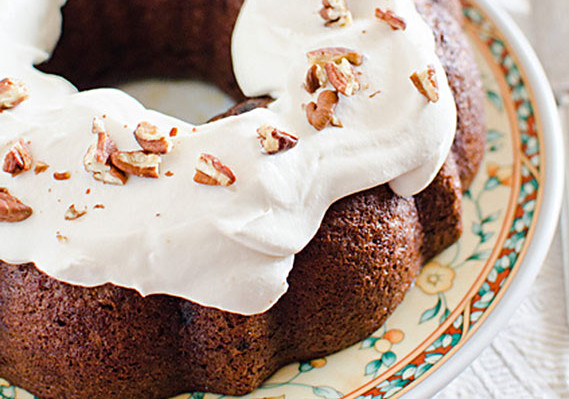 Ingredients
For the Persimmon Cake:
2 cups (280 g) whole wheat flour
2 teaspoons baking soda
1½ teaspoons ground cinnamon
¾ teaspoon salt
½ teaspoon freshly grated nutmeg
1 cups (210 g) granulated sugar
¾ cup (4 ounces/110 g) melted butter
1⅔ cups (415 ml) persimmon purée
3 large eggs
2 teaspoons vanilla extract
¼ cup (60 ml) brandy
For the whipped topping:
½ cup heavy whipping cream
1 teaspoon vanilla extract
½ teaspoon sugar
¾ cup non-fat Greek yogurt
¼ cup (25 g) pecans, toasted and crumbled