A gorgeous Pear Upside-down Cake recipe.

The pears really shine here against a soft vanilla cake. And being an upside-down cake it is very easy and very delicious.
What first caught my eye with this recipe was the use of Poire Williams in the cream that accompanies the cake.
Poire Williams is a brandy liqueur made from pear (you sometimes see bottles of Poire William with whole pears inside). It has a very mild, subtly sweet pear taste and is perfect here whipped into cream to serve with the pear cake.
The very clever Living Tastefully shares this Pear Upside-down Cake recipe.
If you're a fan of pear cake and upside-down cakes, have you seen this lovely Honey and Orange Upside-down Pear Cake?

Pear Upside-down Cake Recipe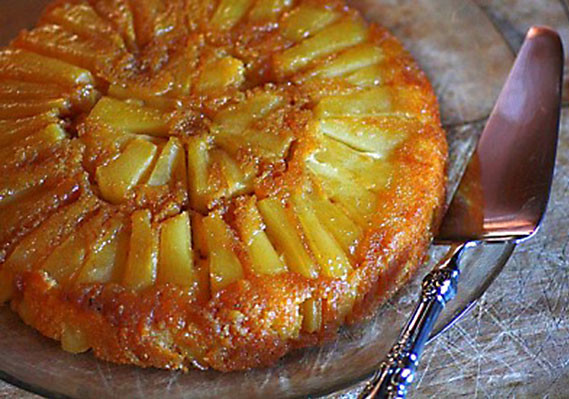 Ingredients
For the Pear Upside-Down Cake:
¾ cup unsalted butter, softened (divided)
½ cup packed brown sugar
4 medium pears (1½ pounds), cored, peeled, and sliced ½-inch thick
1½ cups all-purpose flour
2 teaspoons baking powder
¼ teaspoon salt
⅔ cup granulated sugar
1 teaspoon vanilla
2 eggs
⅔ cup milk
For the Poire Williams Cream:
1 cup whipping cream
1 tablespoon Poire Williams (or other pear brandy)
2 teaspoons sugar.