A lovely French Almond Cake recipe with an unexpected Japanese twist – a green tea honey glaze.

Like many cakes the French actually bake themselves at home (and really, why would you bake with all of those amazing patisseries), this is quite a plain cake – but it's definitely not boring, especially with that fabulous glaze.
Instead attention is paid to the technique and ingredients to give you a French Almond Cake that may be perfectly simple, but it's also simply perfect.
For example, incorporating well beaten egg whites separately into the batter as well as instructions to blanch your own almonds if you choose to, which though a little time consuming, does give an unbeatable almond flavor and great texture to the cake. And given the French penchant for butter, the half a cup used in this cake is relatively restrained for anything of French origin.
The recipe adds a green tea honey syrup over the finished almond cake. I'm a huge fan of anything green tea and the glaze is an utterly delightful addition. If you're not as keen on green tea as I am, a simple honey syrup would be lovely here too.
This wonderful French Almond Cake is shared by the very talented Daring Gourmet.

French Almond Cake Recipe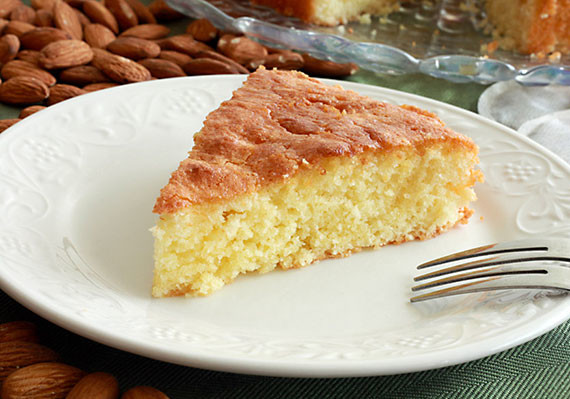 Ingredients
For the French Almond Cake:
½ cup butter, at room temperature
¾ cup white granulated sugar
¾ cup blanched almonds
3 egg yolks
3 egg whites
½ teaspoon cream of tartar
2 teaspoons vanilla extract
½ teaspoon almond extract
½ cup cake flour
1 teaspoon baking powder
For the Green Tea Honey Glaze:
½ cup concentrated green tea (brewed with 6 or more tea bags), decaf or regular
3 tablespoons honey