This beautiful fresh peach cake recipe celebrates peaches in all their delicious glory.
There are peaches in the cake, peach syrup in the frosting and peaches as decoration.
The cake really relies on the peaches for its flavour. If your peaches aren't spectacular to start with, you won't be happy with them once baked (and don't even think about using canned peaches instead).
Be generous with the peaches used for decoration, the more the merrier.
This recipe for peach cake does make for quite a lot of frosting. You may want to adjust depending on your tastes. And you could also add a little Peach Schnapps to the frosting for a more grown-up version too (just reduce the peach syrup quantity).
This gorgeous fresh Peach Cake is baked with love by Kiss the Groom.
Interested in more fresh peach cakes? Try this great peach and ginger pecan cake.

Fresh Peach Cake Recipe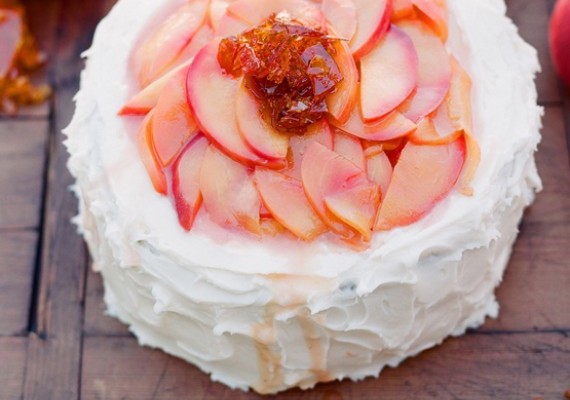 Ingredients
For the peaches:
1 pound sliced peaches (about 3 cups) for inside of cake. Additional peaches will be needed for top of cake.
2 tablespoons unsalted butter
½ cup sugar
½ teaspoon ground ginger
a pinch of kosher salt or sea salt
For the Cake:
1½ sticks of butter, softened
1½ cups sugar
4 eggs, at room temperature
3 cups unbleached white flour
1½ teaspoon baking powder
1½ teaspoons baking soda
½ teaspoon kosher salt or sea salt
1½ cups sour cream
1 tablespoon pure vanilla extract
1½ cups cooked peaches
For the Frosting:
2 8-ounce block of cream cheese, softened
2 sticks of unsalted butter
2 1-pound box of powdered sugar
¼ cup of peach syrup (liquid after you cook the peaches)
For the Shards of Sugar:
Instructions
For the full recipe go here: Peach Cake.

Happy baking!