When you're looking for summer cake recipes to celebrate warmer days, this Nectarine Cake is perfect. Easy to whip up quickly and without fuss for those days when you'd prefer to be outside eating cake in the sunshine than in the kitchen.
Juicy, ripe nectarines add a sweet flavour burst to a fairly basic vanilla cake.
Yellow nectarines are great for their bright vibrant colour, but white nectarines, which tend to be sweeter, work just as well. Or you could also substitute nectarines for peaches.
I always thought that nectarines and peaches were distinct fruits. Sure they look and taste similar but I thought they were different. It turns out that nectarines are actually peaches. The differences in appearance, ie the lack of peach "fuzz" is due to a recessive gene in the peach. Fuzzy peach skin is the dominant gene. There have also been attempts to market "peacherines" – obviously unsuccessful marketing attempts given I've never heard of such a fruit.
Whether it's nectarines, peaches or peacherines, this simple and delicious treat is a perfect summer cake recipe. Enjoy with your favourite cuppa.
The cake star behind this lovely Nectarine Cake is Food Republik.

Nectarine Cake Recipe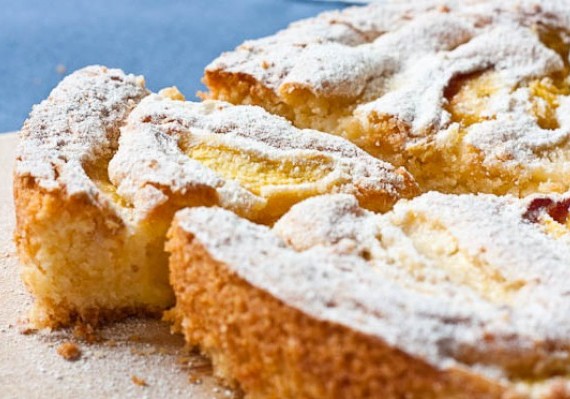 Ingredients
1 cup all-purpose flour
2 tsp baking powder
¼ tsp salt
1 stick unsalted butter, softened
½ cup sugar
2 eggs
1 tsp vanilla extract
⅛ tsp almond extract
2 nectarines, pitted and sliced into wedges
Confectioner's sugar (optional)