If a rich caramel sugar cake with caramel icing isn't indulgent enough for you, why not absolutely smother it in luscious dark chocolate ganache? Try not to faint with the thought of it.
As many of you already know, the slight bitterness of dark chocolate is wonderful for balancing out richness in a cake. Sounds counter-intuitive doesn't it? But the warm and comforting caramel and chocolate flavours make this cake unbelievably delicious.
The cake master behind this amazing Caramel Burnt Sugar Cake is Radishes and Rhubarb.

Caramel Sugar Cake with Dark Chocolate Ganache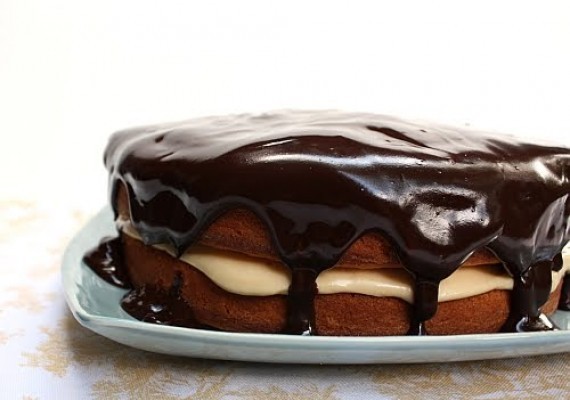 Ingredients
For the Cake:
3 cups all purpose flour
1 tbsp baking powder
½ tsp salt
1 tsp vanilla extract
1 cup milk
1 cup butter
1¾ cups sugar
4 eggs
½ cup Caramel Syrup (recipe provided below)
For the Caramel Syrup:
1 cup sugar
1 cup boiling water
For the Caramel Icing:
3¾ cups confectioners sugar
½ cup Caramel Syrup
¼ cup butter
1 tsp vanilla extract
2 – 4 tablespoons milk
For the Chocolate Ganache:
½ cup heavy cream
4 ounces bittersweet chocolate, chopped
½ tablespoon light corn syrup

Happy baking!