A Lamingtons recipe that stands out from the rest.

There are a couple of things about this lamingtons recipe that make it particularly special.
And it pretty much comes down to attention to detail with a perfect sponge cake and an extra special chocolate dipping sauce.
The sponge cake in the recipe is as light as air. Alex and Rani from Art of Baking triple sift the triple-sift cornflour, self-raising flour and plain flour together. That's right – you triple sift the flours for maximum aeration. And you gently fold the egg and flours together to preserve the aeration of the flour mixture. 
The other aspect of this recipe for lamingtons that's great is the chocolate icing. Most lamington recipes I've seen use a basic chocolate icing mixture made with cocoa and icing sugar. This recipe adds 200 grams of dark chocolate to the icing which gives it a richness and slightly firmer texture. It's the perfect chocolate coating for the lamingtons.
Cover these chocolate-dipped sponge cake morsels with desiccated coconut and serve with heavy cream and a rich berry jam for the perfect lamington experience.
The always fabulous Art of Baking share their excellent Lamingtons recipe.
For another take on lamingtons, this Lamington Cake is a winner. A little quicker to make (and less messy) as you don't cut the sponge into individual pieces and dip each one in chocolate then coconut. It's just one big delicious lamington cake slice really.

Lamingtons Recipe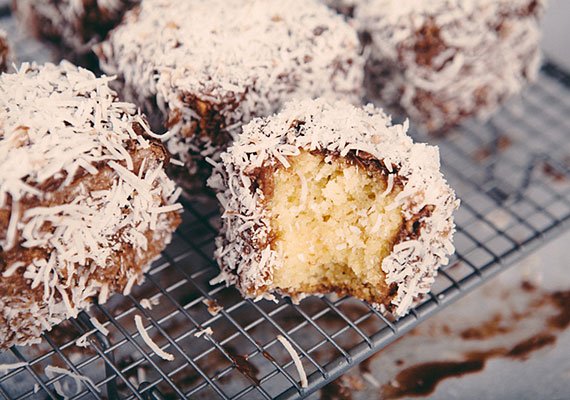 Ingredients
For the sponge cake:
Eggs
Caster sugar
Vanilla extract
Cornflour
Self-raising flour
Plain flour
Butter, melted
Desiccated coconut
For the chocolate icing:
Icing sugar mixture
Cocoa powder, sifted
Milk
Butter, chopped
Dark chocolate