This easy Lamington Cake recipe is a winner.
Who doesn't love a lamington cake? Fluffy and light vanilla cake coated in chocolate and then coconut.
If you're not familiar with the classic Australia lamington, here's what you've been missing out on. The traditional recipe calls for individual cubes of sponge cake to be dipped in a chocolate icing and then coated in dessicated coconut. Fancy lamingtons may have jam and cream in the centre too.
This particular lamington cake recipe is a favourite because you don't have to dunk individual cake pieces in chocolate then coconut. The whole cake is iced and then coated in coconut. May not sound like a big time saver but it seriously is. And taste is certainly not compromised.
A delicious twist on the classic lamington recipe.
The cake revisionist behind this fabulous Lamington Cake recipe is the talented Simply Delicious.

Lamington Cake Recipe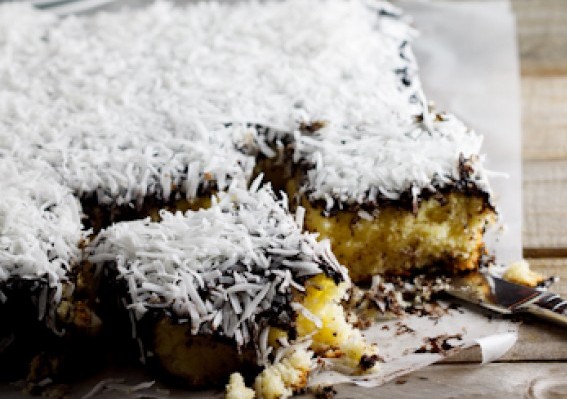 Ingredients
For the cake:
250g (8.82 ounces) butter, room temperature
350g (12.35 ounces) caster sugar
2 tsp vanilla extract
4 eggs
350g (12.35 ounces) flour
2.5 tsp baking powder
250ml (8.45 fluid ounces) milk
For the icing:
250g (8.82 ounces) icing sugar
40g (1.41 ounces) (approximately 4 tbsp) cocoa powder
150ml (5.07 fluid ounces) boiling water
50g (1.76 ounces) butter, melted
Approximately 100g (3.53 ounces) shredded coconut