This Fresh Ginger Cake is great all by itself, but add in a succulent caramelised pear topping and you have a very special cake indeed. If you're a ginger cake or gingerbread fan like I am, give this a try.
Reminiscent of a sticky pudding, this cake is easy to make. Generous quantities of sour cream and butter ensure that this is a lovely moist ginger cake.  Its sweetness comes from a combination of honey and sugar in the cake and the topping of juicy pears. A winning combination for sure.
The inventive Share My Kitchen brings you this delicious Fresh Ginger Cake recipe.
If you're interested in another recipe for ginger cake, you might like this Gingerbread Loaves with Lemon Glaze recipe.

Fresh Ginger Cake Recipe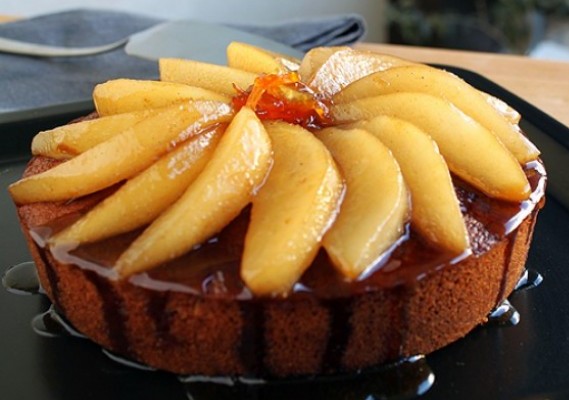 Ingredients
For the Fresh Ginger Cake:
100g (1 cup) all-purpose flour
½ tsp baking soda
¼ tsp salt
4 tbsp honey
60ml (¼ cup) sour cream
60g (4 tbsp) softened butter
50g (¼ cup) sugar
1 large egg
1 tbsp fresh ginger, finely grated
½ tsp lemon zest
For the topping:
2 firm pears, peeled and sliced
2 tbsp lemon juice
2 tbsp butter
50g (¼ cup) sugar
2 tbsp brandy or 1 rum essence