An easy and delicious Hot Milk Cake recipe.
I remember seeing Hot Milk Cake at country fairs and markets when I was a child.
It's a traditional style of making cakes that I haven't seen recently so I was delighted to come across this lovely recipe.
Sponge like in taste and texture, essentially Hot Milk Cake is made by bringing milk and butter to the boil before you add the other ingredients (but you probably could have guessed that from the name, couldn't you).
Incredibly easy to make and very versatile too. Lightly spiced with freshly grated nutmeg and a touch of vanilla, these little cakes are delicious served with strawberries and cream as pictured here, or decorate with any other fruit, berry chopped up chocolate bars, candy – the options are endless really.
This is a gem of an old fashioned cake – a recipe certainly worth holding on to.
This great Hot Milk Cake recipe is shared by the talented Sweet Happy Life.

Hot Milk Cake Recipe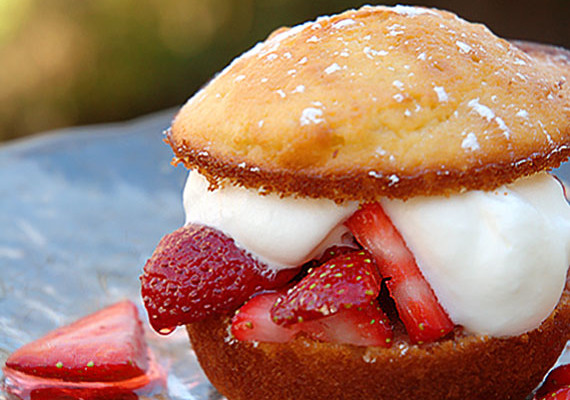 Ingredients
Nonstick vegetable oil spray
2 large eggs
⅔ cup plus ½ cup sugar
¾ teaspoon vanilla extract, divided use
1 cup plus 1 tablespoon all-purpose flour
1½ teaspoons baking powder
¼ teaspoon salt
½ teaspoon freshly grated nutmeg
⅔ cup whole milk
5 tablespoons unsalted butter
1 pound large strawberries, hulled, thinly sliced lengthwise
½ cup chilled heavy whipping cream
1 tablespoon powdered sugar