This Hot Fudge Pudding Cake is pure chocolate pudding cake heaven. This recipe could be your new best friend – or worst enemy.

This cake is incredible easy to make it, yet tastes utterly amazing. It's quick and makes enough to feed a good few people. That's the best friend part.

But because it is so delicious and so fuss-free, a little part of you may want to make (and eat) this chocolate cake pudding every single day – that's the enemy part.
 If you do have the will-power not to eat this for breakfast, lunch and dinner, give this recipe a try.
Another reason I like this Hot Fudge Pudding Cake recipe is that it uses an unusual technique. Making the cake is a little like a science experiment. The first time you make it you'll be sure it won't work – but that's where you've got to trust in the Hot Fudge Pudding Cake magic.
Basically you spread the cake batter into a pan, and then you add a layer of brown sugar, white sugar and cocoa. Add in a cup of water, but don't stir. Weird I know. You just leave it alone and pop it in the oven. The cake bakes it rises up while the hot chocolate fudge sauce stays on the bottom. Told you it was magic.
It's essentially a giant chocolate brownie which is all gooey and molten in the center. All the fudgey brownie goodness basically acts as a sauce for the chocolate cake pudding.
Like most things chocolatey and gooey, it's best served hot. With ice-cream.
Seconds anyone? Thirds?
This great Hot Fudge Pudding Cake recipe is from the clever folk at The Kitchn.

Hot Fudge Pudding Cake Recipe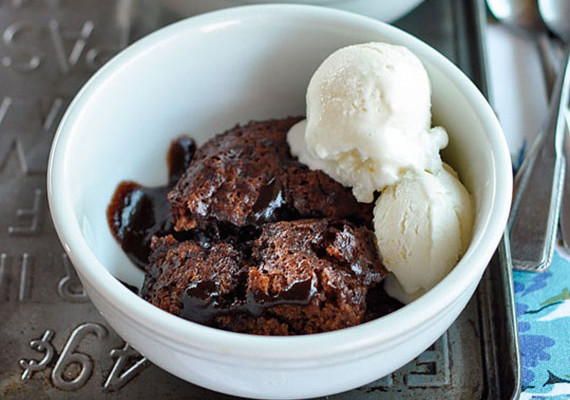 Ingredients
For the Cake:
1 cup (5 ounces) all-purpose flour
¾ cup (6 ounces) white sugar
2 tablespoons unsweetened cocoa powder
2 teaspoons baking powder
½ teaspoon table salt
½ cup (4 ounces) milk, whole or 2%
2 tablespoons unsalted butter, melted
1 teaspoon vanilla
For the pudding:
½ cup (4 ounces) white sugar
½ cup (4 ounces) brown sugar
¼ cup (2 ounces) unsweetened cocoa powder
1 cup (8 ounces) cold water