This Cherry Coffee Cake could become one of your stand-by recipes. A cross between a cherry pie, a cherry cobbler, a cherry tart and a cherry cake, this recipe is pretty much guaranteed to please everyone who's partial to cherries.
Let me start by saying how incredibly easy this recipe is. Ridiculously easy.
This cherry crumb cake recipe is a little unusual too. You basically make a crust of cake for the bottom. There's no cake batter as such. This works really well to give a crumbly bottom layer of cake.
The cherry filling couldn't be much easier than making a syrup with cherries and a little cinnamon sugar. If you're using frozen cherries you won't even need to pit them.
All this cherry filling and cake crust goodness is finished off by a delicious crumb topping.
The result is a Cherry Coffee Cake that tastes out of this world. Easy to pull together, but no one will know how simple it is to make (unless you feel the need to share this information).
In case you're a little confused, this is a coffee style of cake – there is no coffee in the cake at all. But it does go very well with a cup of coffee. Or tea. Or anything else really.
This cheery Cherry Coffee Cake is baked with love by Sweet Smart.
For more cherry cake delights, why not pop on over to our Cherry Cake Recipe Collection.

Cherry Coffee Cake Recipe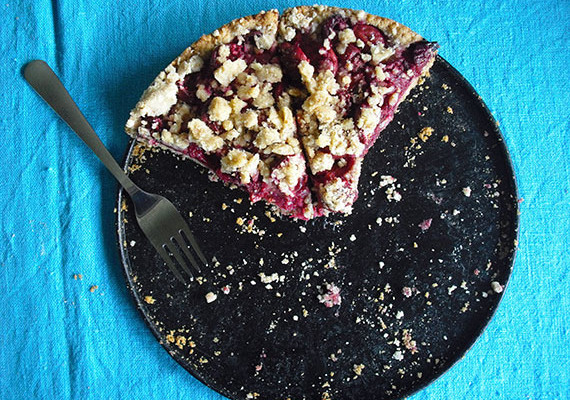 Ingredients
For the crust:
2 cups flour
2 tsps. baking powder
¾ cup cold butter, cut into cubes
½ cup sugar
pinch of salt
2 eggs
vanilla to taste
2-3 tbsps. milk (if required)
For the Cherry Filling:
7 cups cherries
3 tbsps. cinnamon sugar
For the crumb topping:
¾ cup flour
½ cup sugar
½ cup cold butter, cut into cubes
pinch of salt