Let's be honest. Angel Food Cake is a whole lot of work. And a whole lot of eggs. But is it worth the effort and surplus of left-over egg yolks?
Absolutely.

Without a doubt.

No question at all.
This lovely Angel Food Cake recipe uses a dozen egg whites – yep – a dozen. But all these egg whites results in a light as air, fluffy cloud of soft, spongy cake. One bite and you're in heaven for sure.
And this Angel Cake recipe is gluten free too. How much better could this be?
Here's a good tip for cutting Angel Food Cake too. Like any very light, soft airy cake, to prevent squishing it when you slice it, use a light sawing motion (more like slicing bread).
This Angel Food Cake is baked with love by GF in the City.
Are you looking for other Angel Food Cake ideas? Perhaps I can tempt you with this wonderful Raspberry Swirl Angel Food Cake with Crème Fraiche.

Gluten Free Angel Food Cake Recipe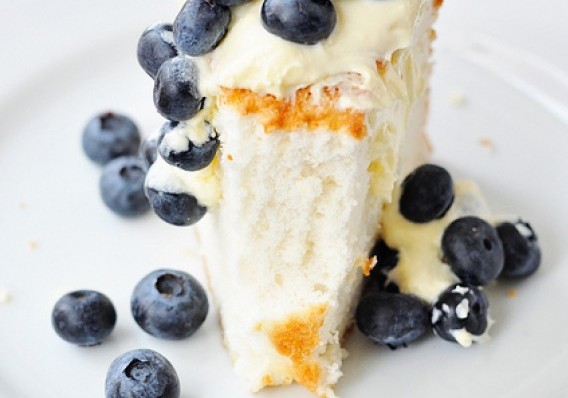 Ingredients
⅓ cup / 1.4 oz millet flour
⅓ cup / 1.8 oz brown rice flour
⅓ cup / 1.4 oz tapioca flour
½ teaspoon xanthan gum
½ teaspoon Kosher salt
1½ cups sugar, divided
12 large egg whites
¼ cup / 2 oz warm water
1 teaspoon vanilla extract
1½ teaspoons cream of tartar

Happy Baking!