As far as no-bake cake recipes go, this Strawberry Icebox Cake is a winner. Also known as "Strawberry Refrigerator Cake", it's super easy and super tasty – the very definition of "fuss-free".
Why do I like this particular recipe? Well, let's see.
Firstly, there are only six ingredients. You can see straight-off what four of them are, strawberries (of course), biscuits, cream and chocolate for decoration. Add a touch of vanilla extract and some powdered (icing) sugar and you're done – that's it!
Another thing I like about this recipe – it's very generous with the strawberries. A whole two pounds of beautiful fresh strawberries. I often buy discount buckets of strawberries when they're in season. This recipe is perfect for using up those strawberries that may be a little bit bruised or not so perfect looking.
The strawberries do need to be flavorsome for this cake to really shine. If you're not sure your strawberries have the intense level of taste and aroma you're looking for, you could add a few drops of pure strawberry extract (NOT strawberry flavoring). Pure strawberry extract is great to use in all manner of home-made strawberry cakes and desserts to intensify natural strawberry flavor. Very handy to keep in the pantry.
Other than that – it's easy, tastes delicious and you can make it ahead of time.
As I said, a winning no-bake cake recipe.
The very talented Chew Out Loud shares this great recipe.
If you're looking for more strawberry cake delights, take a peek at our list of great Strawberry Cake recipes. That should keep you going for a while.

Strawberry Icebox Cake Recipe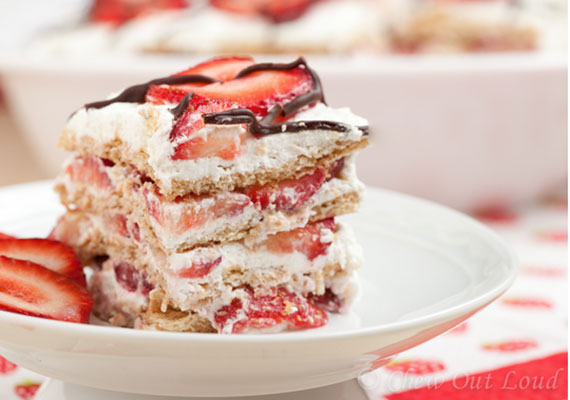 Ingredients
2 lbs fresh, sweet strawberries, hulled and thinly sliced
Heavy whipping cream
Powdered sugar
Vanilla extract
Graham crackers
For the Simple Chocolate Ganache:
Semi sweet chocolate morsels
Heavy whipping cream