Great coffee crumb cake recipe with chocolate and vanilla flavours, a delicious crumble topping and chocolate ganache. Coffee crumb cakes don't get much better than this.

The recipe has delightful vanilla and chocolate cake marbled together, with a delicious crumbling topping. And it keeps getting better with an indulgent chocolate ganache drizzled all over the top.
Just see if you can stop at just one slice.
This is a "coffee cake" in the sense that it goes well with a cup of coffee. There is no coffee or coffee flavour to the cake.
The cake superstar behind this delicious Chocolate Swirl Vanilla Crumble Coffee Cake creation is Rock Recipes.
If you like the swirly marbled effect of this cake you love this great Marble Cake recipe. Super easy to bake too.

Coffee Crumb Cake Recipe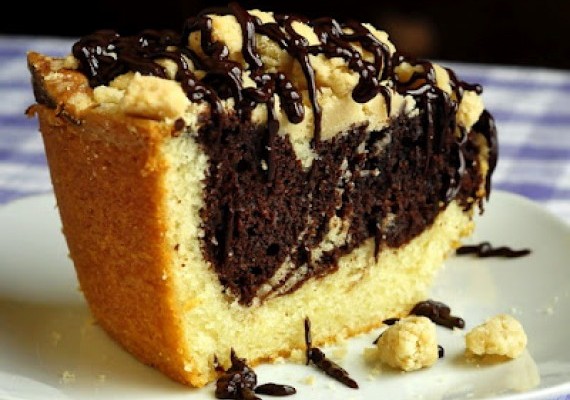 Ingredients
For the Vanilla Crumble:
⅔ cup flour
⅓ cup butter
2 teaspoons vanilla extract
For the Cake:
2 cups all-purpose flour
1 tablespoon baking powder
¼ tsp salt
4 large eggs, at room temperature
1 & ½ cups sugar
2 tbsp vanilla extract
½ cup butter, then mix in
½ cup vegetable oil
1 cup whole milk, at room temperature
⅓ cup cocoa
3 tbsp milk
For the Chocolate Ganache:
1 cup dark chocolate chips
¼ cup whipping cream