A Chocolate Birthday Cake recipe that would make anyone's birthday very special indeed.

I'm always curious what recipes top food bloggers choose for their own birthday cakes. When you're an outstanding baker with a whole host of recipes to call on, what cake is special enough for your own birthday cake?
This chocolate cake with chocolate cream and berries was the choice of the incredibly talented Monica at Pratos e Travessas.
And what a spectacular choice it is. Layers of rich chocolate cake made with dark chocolate and cocoa powder, lashings of whipped chocolate cream and gorgeous fresh berries – birthday cake perfection really.
When you think about it, it's actually a pretty traditional chocolate birthday cake. It's not difficult to make but looks mighty impressive piled high with berries – my sort of cake really. And if it's good enough for Monica, it's certainly good enough for yours truly. How about you?
This wonderful chocolate birthday cake recipe is shared by Monica at Pratos e Travessas.
For more birthday cake inspiration have a look at this chocolate birthday cake recipe collection. Prepare to swoon…

Chocolate Birthday Cake Recipe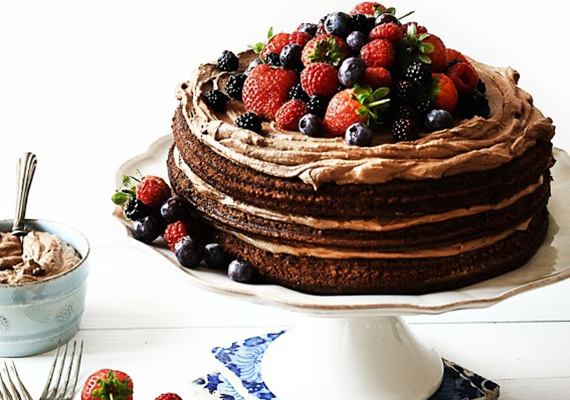 Ingredients
For the Chocolate Birthday Cake:
350 gr flour
200 gr caster sugar
220 gr dark muscovado sugar
50 gr unsweetened coccoa powder
60 gr dark chocolate, chopped
2 medium eggs
1 yolk
2 tsp baking powder
3 dl corn oil
4,2 dl boiling water
Butter for the pans
Coccoa powder for dusting
For the Cream and Chocolate Frosting:
6 dl heavy cream
250 gr semisweet chocolate
1 vanilla pod (make a cut into the pod and scrap the seeds with a knife)
To decorate:
Strawberries, raspberries, blackberries, blueberries - to taste