An utterly delightful Apricot and Pistachio Upside-Down Cake recipe.

Apricots glazed in vanilla scented honey create a gorgeous sticky sweet topping for this cake. The pistachio meal balances the cake flavors perfectly and is a lovely change from almond meal.
I have such a weakness for upside-down cakes.
They are homemade and comforting and yet totally gourmet. And so very easy to make (and eat). This one's a favorite. Upside-down cakes get their very own category here on The Answer Is Cake.
This Apricot and Pistachio Upside-Down Cake is originally from a blog called No Tea After 12 but that site seems to have disappeared. I always get a little sad when a blog I like vanishes, but I guess people's lives move on and priorities and interests change. In order not to lose this recipe forever, I have reproduced it below.

Apricot and Pistachio Upside-Down Cake Recipe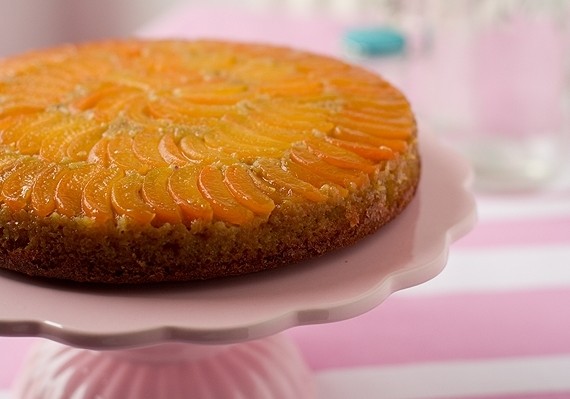 Ingredients
For the cake:
¾ cup / 115g shelled pistachios
1 cup / 100g all purpose flour
2 teaspoons baking powder
¼ teaspoon nutmeg
¼ teaspoon salt
½ teaspoon vanilla extract
½ cup / 120ml milk
4oz / 115g unsalted butter
¾ cup / 145g granulated sugar
3 large eggs
5-6 large apricots, sliced into ⅓ inch, even slices
For the pan schmear:
1.7oz / 50g unsalted butter, at room temperature
2 tablespoons honey
½ cup / 100g light brown sugar
¼ teaspoon vanilla extract
Instructions
To make the schmear: In a small bowl combine the butter, sugar, honey, and vanilla. Spread about ⅓ of a cup onto the bottom of a 9-inch / 22cm round silicone cake pan. You will have a little bit leftover but it will keep in the fridge or can be frozen.
Starting from the outside edge of the pan, place the sliced apricots in a circle, overlapping each other. The idea is to make sure they are tightly packed over the entire bottom of the pan. Make a second circle of apricots inside the outer ring, again overlapping carefully. And make a third, smaller circle in the middle of the pan.
To make the cake, preheat the oven to 350f / 180c. In a food processor, grind the pistachios until very finely ground. In a medium-sized bowl combine the sifted flour, baking powder, pistachios, nutmeg, and salt.
In a separate measuring jug, combine the milk and the vanilla.
In a large bowl, cream the butter and sugar until pale and fluffy. Add the eggs one at a time, beating well after each egg. While mixing on low speed, add the flour mixture in two or three batches, alternating with the milk.
Spread the batter over the apricots and bake for 45 - 50 minutes, or until a toothpick comes out clean. If the cake looks like it is going too brown, cover it with aluminium foil for the last 10 minutes of baking.
Allow the cake to cool in the pan for 5-10 minutes and put your serving plate on the top of the cake pan and flip upside-down to serve right-side up.
Makes 1 cake, 8-10 servings.