A deliciously easy Almond Cake recipe.
Make no mistake, this is a pretty "almondy" Almond Cake recipe.
Almond cake fans will be delighted. There's ground almond meal in the cake and a generous garnish of lightly toasted flaked almonds to finish. There's one teaspoon of almond extract in the cake which packs quite a punch but you can always reduce it to your taste for a more subtle almond flavor.
One of the reasons I love this easy Almond Cake recipe – besides the fact it is so simple to whip up, is that it's pretty durable and easy to transport. There's a rustic charm to the roughness of the toasted almond topping. The glaze helps to stick some of the almonds to the cake. It's already a bit "messy" so it doesn't look any more messed up when you get to your destination. Just scoop up any almonds that have fallen back onto the cake before you serve it. It's a great cake to take to a picnic.
The very talented Linzers In London share this Easy Almond Cake recipe.

Easy Almond Cake Recipe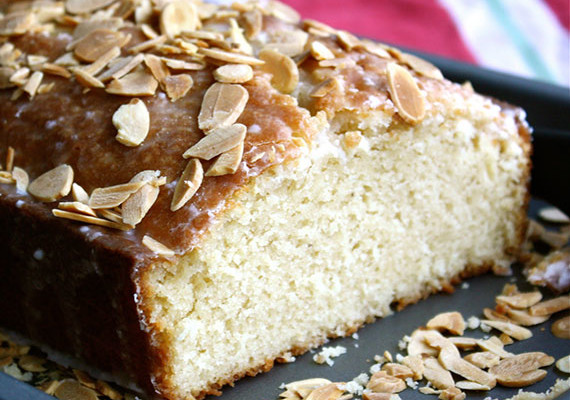 Ingredients
For the Almond Cake:
½ c (113g) butter
1 c sugar
2 eggs
1 tsp vanilla extract
1 tsp almond extract
⅓ c ground almonds
1¼ c flour
1 tsp baking powder
¼ tsp salt
½ c milk
For the glaze:
¾ c powdered sugar
2-3 Tbsp milk
drop of almond extract
Toasted flaked almonds to decorate