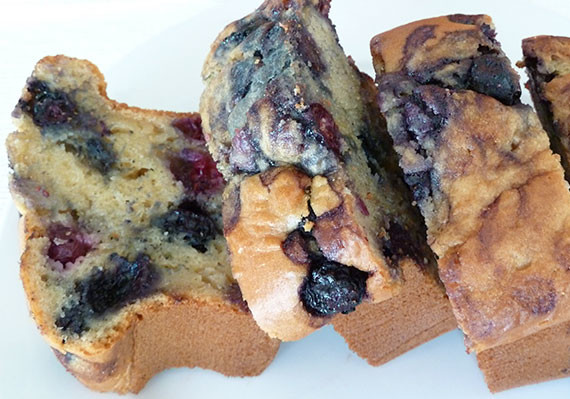 A delicious Blueberry Lemon Almond Cake that everyone will enjoy.
Made as mini loaves, this recipe is perfect for those days when you can't decide between cake or muffins (we all have those days don't we – or is that just me?)
There are couple of reasons why that this Blueberry Lemon Almond Cake is one of my go-to, quick and easy cake recipes.
Firstly, there's no added sugar in this recipe but you don't miss out on sweetness or flavor. Honey and lots of blueberries take care of the sweetness and the lemon zest gives a fresh tangy flavor lift.
Extra egg whites add a little more lightness to the texture than you usually get with almond based baked goods. The almond flour gives the cake a rich flavor and great texture.
The recipe is very versatile too as you can use fresh or frozen berries (any any kind berry will do nicely). I used frozen blueberries here and added them through the batter at the very last moment before the batter is poured into the pans and put into the oven. This  helps to distribute the berries throughout the cake so you don't end up with them all having sunk to the bottom. You can see from the photo that there are blueberries evenly through top, middle and bottom of the cake slices.
It will come as no surprise that I like a strong lemon flavor in my cakes (just have a look at the number of citrus cake recipes on this site to see how much I love a zesty tang to my baked goods). I added zest from two lemons which were on the large size, and it was just perfect. As always, adjust the amount of lemon zest to your liking.
The recipe makes one regular size loaf or you can make as two mini loaves as I did here.

Blueberry Lemon Almond Cake Recipe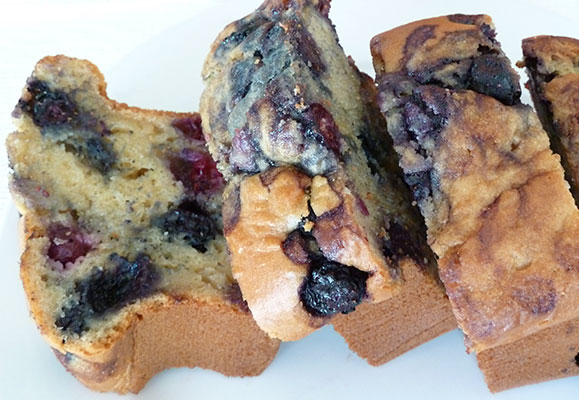 Ingredients
1 cup almond flour
1 cup plain flour, sifted
1 egg
2 egg whites
⅓ cup honey
Zest from 2 lemons
1 teaspoon vanilla
2 Tbsp olive oil
½ teaspoon baking powder
¼ teaspoon bicarbonate soda
½ teaspoon of salt
1 cup blueberries (fresh or frozen).
Instructions
Preheat oven to 180 degrees C
Grease and line one regular size loaf pan or two mini loaf pans.
Beat the two egg whites until stiff peaks form. Set aside.
Combine dry ingredients in one mixing bowl.
Combine wet ingredients (not including egg whites) in a large mixing bowl.
Add wet ingredients to dry ingredients. Mix until just combined.
Gently fold egg whites into cake batter, make sure the egg whites are incorporated into the batter but be careful not to over-mix. It's Ok if there are still some white flecks in the batter.
Add blueberries but do not stir mixture too much. Pour immediately into prepared baking pans and pop in the over.
Bake until lightly golden - approx for 25 minutes for mini loaves (30-35 minutes for regular sized pan). Perform a skewer test.