A perfectly simple, and simply perfect Tea Cake Recipe.

Very easy with not much more than butter, sugar, flour and milk, you could probably make this Tea Cake recipe from your kitchen pantry right now.
The cinnamon sugar topping is a lovely addition – sweet and spicy with a little bit of crunch.
Old fashioned tea cakes do seem to be coming back in vogue. Harking from simpler times, this tea cake recipe shows that you don't always need a flashy cake with lots of ingredients to be perfectly satisfied.
Serve it freshly baked and still slightly warm for a heartwarming treat. Can you think of anything better to have with your cup of tea or coffee today?
The very talented On (Glorious) Food and Wine shares this old fashioned Tea Cake Recipe.

Tea Cake Recipe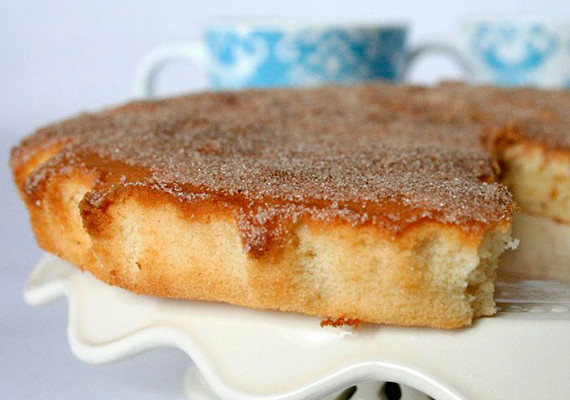 Ingredients
For the Tea Cake:
60gr unsalted butter
145gr caster sugar
1 egg
1 teaspoon vanilla extract
155gr plain flour
1 teaspoon baking powder
80ml milk
For the Cinnamon Sugar topping:
3 teaspoons caster sugar
¾ teaspoon ground cinnamon
10gr unsalted butter