Could this be the best banana cake with peanut butter frosting?

It takes the humble banana cake to a new level of deliciousness – and let me tell you that the frosting is just sensational.

Combining a moist banana cake made with sour cream, a peanut butter frosting and an additional second frosting made from cream cheese, this is a banana layer cake to treasure.
I always feel there's is something delightful childish about using peanut butter in cake recipes or indulging in a great peanut butter frosting.
I also don't tend to opt for peanut butter sandwiches these days, but this cake allows you to rediscover the utter joy of a banana and peanut butter sandwich, in a slightly more grown-up way.
The cake whiz behind this Banana Cake with Peanut Butter Frosting creation is Once Upon a Cutting Board.
If you're looking for more great banana cake recipes like this one, how about this Moist Banana Cake Recipe. It has another banana cake frosting that is out of this world. Have a look…
Best Banana Cake Recipe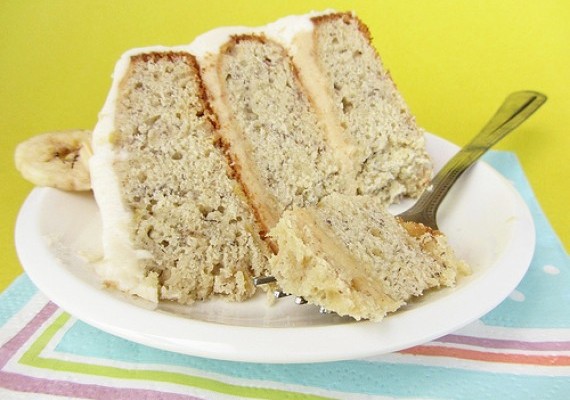 Ingredients
For the Sour Cream Banana Cake:
1 cup unsalted butter, at room temperature
1 cup packed brown sugar
1 cup granulated sugar
4 large eggs
4 large ripe bananas, mashed
1 cup sour cream
2 teaspoons vanilla extract
4 cups sifted cake flour
1 teaspoon baking soda
¼ teaspoon salt
For the Peanut Butter Frosting:
1 8-oz package cream cheese, at room temperature ⅓ cup unsalted butter, softened
½ cup smooth peanut butter
Pinch of salt
1 cup icing sugar
For the Cream Cheese Frosting:
1 8-ounce package cream cheese, at room temperature
⅓ cup unsalted butter, at room temperature
1 teaspoon vanilla extract
1-1/2 cups icing sugar, divided
¾ cup chilled heavy whipping cream