This Almond Coffee Cake is my new favorite coffee cake – as you know, I do get a little obsessed with some cakes from time to time.
Why do I like this Almond Coffee Cake so much? I hear you ask.
Fair question – after all, it's not like there's a shortage of great coffee cake recipes on The Answer is Cake.
Well, my favorite part is the the divine almond paste cream cheese filling. Sweet, almondy, creamy and lush, it's made from almond paste, cream cheese and sliced almonds – I could eat a bowl of this on its own. Almond paste and cream cheese is a match made in cake heaven
The cake itself is pretty great too. Gorgeous and moist thanks to sour cream and gently flavored with almond extract, cinnamon and vanilla.
And coffee cake being coffee cake, there's the crunchy almond streusel topping (also known as crumble or crumb topping). The genius inclusion of salt in the topping adds an unexpected flavor spike which offsets the sweetness of the filling. Inspired!
Sweet, salty, creamy, crunchy – Yes, I am obsessed with this cake.
And who do I have to thank for my new cake obsession? Heather at Curly Girl Kitchen shares her fabulous Almond Coffee Cake. Thank you Heather – thank you, thank you, thank you!

Almond Coffee Cake Recipe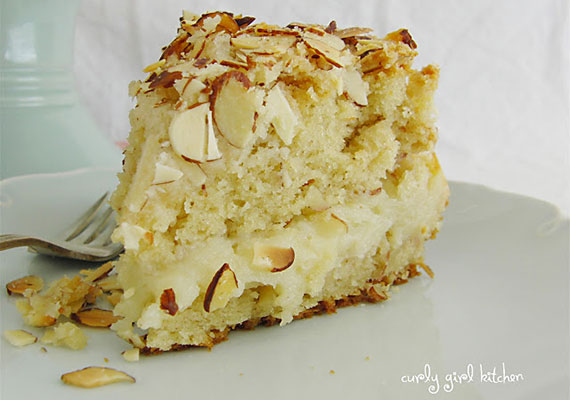 Ingredients
For the Streusel Topping:
¼ cup all-purpose flour
¼ cup granulated sugar
¼ teaspoon salt
3 tablespoons cold unsalted butter, diced
¼ cup sliced almonds
For the Almond Cream Cheese Filling:
8 ounces almond paste
2 tablespoons granulated sugar
4 ounces cream cheese, room temperature
¼ cup sliced almonds
For the Cake Batter:
½ cup (1 stick) unsalted butter, room temperature
½ cup granulated sugar
2 eggs
1 teaspoon vanilla extract
1 teaspoon almond extract
1 cup sour cream
2 cups all-purpose flour
2 teaspoons baking powder
½ teaspoon baking soda
¼ teaspoon salt
½ teaspoon cinnamon