A Whole Wheat Chocolate Cake that's all things to all people. What do I mean by that?

Well, this chocolate cake is vegan. This cake is eggless. This cake is dairy free. This cake is calorie friendly (well – for a delicious chocolate cake it's calorie friendly with each slice having 198 calories, 8.7 grams of fat, 28 grams of carbs and 3 grams of protein).

So we've established that this Whole Wheat Chocolate Cake is a healthy, eggfree, dairy free, vegan chocolate cake – but most importantly –
How does it taste?
Simply put – awesome.
Rich and chocolatey with a dense fudgey texture. There are subtle hints of coconut thanks to the coconut oil. This is a serious chocolate hit – you would never guess it was good for you too. It tastes too good to be true – but it really is.
The recipe calls for "flax egg". For those of you not familiar with flax egg, it is an egg substitute made from ground flax seeds that acts as a binding agent in baked goods. It's very basic – only flax seeds and water, but you need to whisk it as you go and let it chill in the fridge for about 15 minutes. There's a great tutorial here on how to make flax egg for use in baking.
The Whole Wheat Chocolate Cake master behind this cake is The Iron You.

Whole Wheat Chocolate Cake Recipe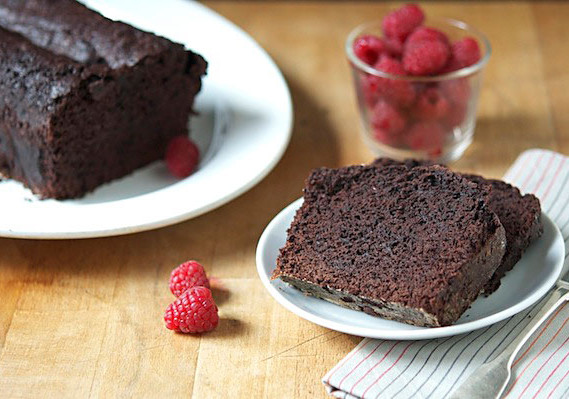 Ingredients
½ cup / 4 oz / 113 gr coconut oil, at room temperature
1 cup / 7 oz / 200 gr firmly packed brown sugar
1 flax egg
1 cup / 250 ml soy buttermilk (or soy milk plus vinegar)
1 teaspoon vanilla extract
1 ½ cup / 6.8 oz / 195 gr whole wheat flour
¾ cup / 2.6 oz / 75 gr cocoa powder
¼ teaspoon baking soda
½ teaspoon baking powder
¼ teaspoon fine grain sea salt