With this Chocolate Chip Cookie Cake recipe you can have the best of both worlds – chocolate chip cookies and a chocolate chip cake.
What is it about those little melty bits of chocolate in cookies and cake that people find so irresistible?
But irresistible they are. And to think, chocolate chip cookies were pretty much invented by accident. True!
This Chocolate Chip Cookie Cake recipe uses a spring form pan, so you get a perfectly round, thick cookie/cake. It's crisp on the outside and soft and chewy on the inside – just like a good cookie should be.
And it's a super easy recipe too. It does call for whole wheat flour but you can use regular flour if you prefer.
Another plus I guess is that if you accidentally ate the whole thing you could comfort yourself by claiming that you only had one cookie (conveniently ignoring the fact it was one absolutely giant cookie of course).
This great Chocolate Chip Cookie Cake Recipe is baked with love by Bobbi at Fresh and Foodie.
Chocolate Chip Cookie Cake Recipe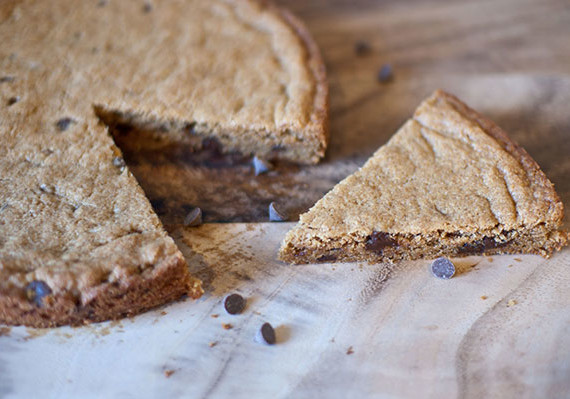 Ingredients
½ cup unsalted butter, room temperature
1 cup all purpose whole wheat flour
1½ teaspoons baking powder
½ teaspoons sea salt
1 cup packed light brown sugar
1 teaspoon vanilla extract
½ teaspoon almond extract
1 large egg
1 cup chocolate chips