Be transported to northern Italy with this Tuscan Pine Nut Cake. A gorgeous traditional Italian style cake that is beyond delicious.
The silky custard contrasts beautifully with the cake and those liqueur soaked raisins are utterly divine.
As a big fan of pine nuts, I always decorate the cake with extra lightly toasted pine nuts once it's baked (dust with icing sugar first and then add the extra pine nuts).
The first time I made this cake for a family gathering, I spent the next day emailing everyone the recipe. Even the men who usually pass on eating cakes couldn't resist. It was that good. I'm sure you'll also be asked for recipe after you've shared this Tuscan Pine Nut Cake with your loved ones.
This traditional Tuscan Pine Nut Cake recipe is baked with love by Jul's Kitchen.

Tuscan Pine Nut Cake Recipe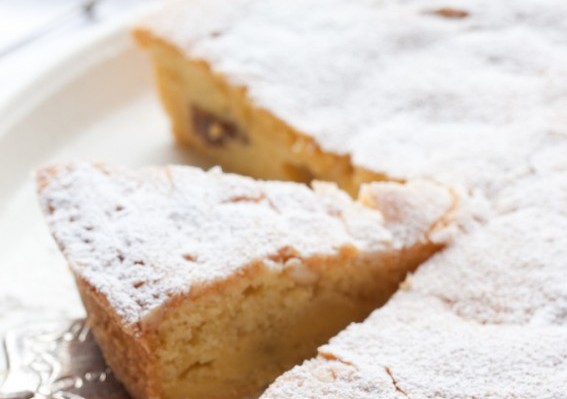 Ingredients
For the cake:
180 g of butter at room temperature
150 g of caster sugar
3 free range eggs
180 g of organic tender wheat flour
10 g of baking powder
1 handful of shelled pine nuts
For the custard:
3 free range egg yolks
4 tablespoons of caster sugar
2 tablespoons of organic tender wheat flour
500 ml of whole milk
2 tablespoons of raisins, soaked in Vinsanto, Tuscan sweet wine

Happy baking!