A truly wonderful Plum Cake recipe.
Something amazing happens to fresh plums when they are baked. Their flavour and colour intensifies to such a degree that it can only be magic.
In this lovely creation, these magic plums are surrounded with a cake that has been gently spiced with cinnamon, nutmeg and cloves.
This is a delicious cake that is perfect for afternoon tea. Or serve with warm custard for a luscious dessert.
This Plum in Love Spiced Cake is baked with love by Eva at Adventures in Cooking.

Plum in Love Spiced Cake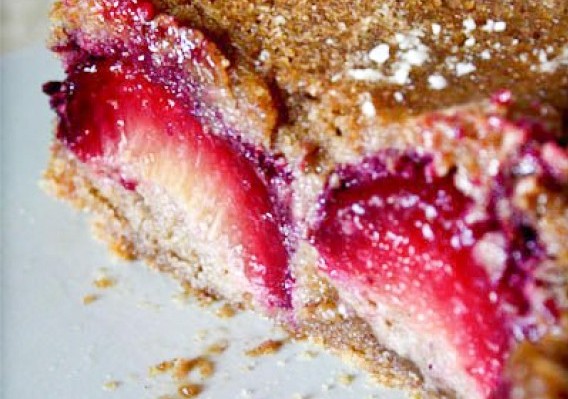 Ingredients
1 lb Fresh Plums
1 and ½ Cups Whole Wheat Flour
1 Cup Sugar
1 Cup Olive Oil
3 Eggs
2 Tablespoons Powdered Sugar (optional)
2 Teaspoons Cinnamon
1 and ½ Teaspoons Vanilla Extract
½ Teaspoon Almond Extract
½ Teaspoon Nutmeg
½ Teaspoon Ground Cloves
½ Teaspoon Allspice
½ Teaspoon Ground Ginger
½ Teaspoon Baking Powder
¼ Teaspoon Salt

Happy baking!