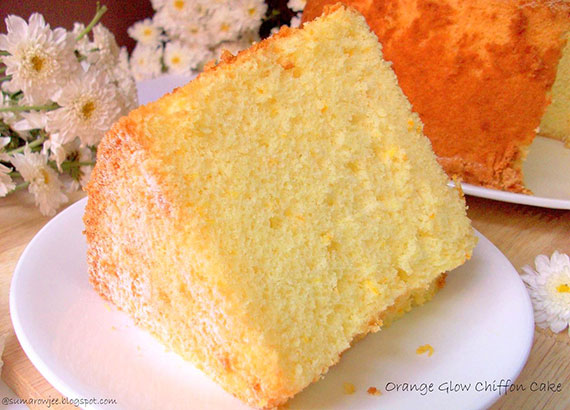 A magnificent Orange Chiffon Cake recipe.
Now the truth of the matter is that Orange Chiffon Cake, or indeed any chiffon cake, is not the easiest cake to make.
Technique is your friend and you really do need to follow the recipe's instructions very carefully.
But, once you have mastered the art of chiffon cakes, you'll never look back. Chiffon cakes are extremely versatile, universally loved and make for the perfect celebration cake.
This recipe from Cakes and More will help you become the Orange Chiffon Cake legend you aspire to be. It's very precise, explains things carefully and provides tips, advice and additional links to make sure you know everything there is to know about baking chiffon cakes. You're in safe hands here.
You can buy specialty chiffon or angel food cake pans that are designed to help you master the perfect chiffon cake. The pans are very deep and have little "feet" so you can cool the cake properly. You can see this type of pan here: Chiffon Angel Food Cake Pan
If you plan to make a few chiffon cakes over time, I think a specialty pan is worth its weight in gold (and at less than $15 a good investment for you).
This Orange Chiffon Cake masterpiece is from the baking genius of Suma Rowjee at Cakes and More.

Orange Chiffon Cake Recipe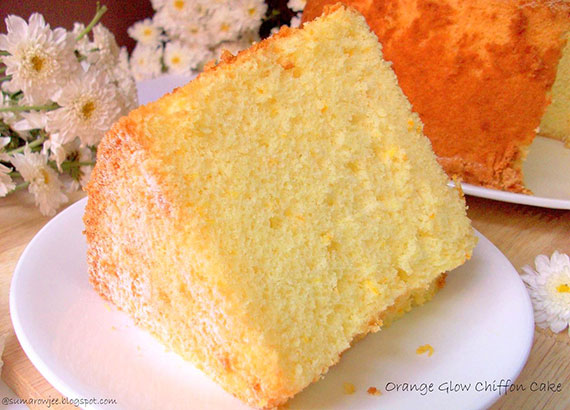 Ingredients
Sifted Cake Flour OR All Purpose Flour
Superfine Sugar
Baking powder
Salt
Safflower /Canola/ Vegetable oil
7 large eggs (at room temperature) separated, plus 3 additional egg whites
Orange juice, freshly squeezed (from approximately 2-3 large oranges)
Grated orange zest
Pure vanilla extract
Cream of tartar